17 Juillet, 2019
In today's post, Estela Exclusives Homes is happy to present you the best 5 beaches in Ibiza. Besides attracting thousands of tourists to its eccentric, frenzy and luxurious nightlife, let's not forget that Ibiza is also famous for the beauty of its beaches. To help you find the best beaches, we have scoured among the over 50 beaches on the island, here are our top 5 recommendations. . Take your sunscreen and put on your sandals, you won't be disappointed!
1.-Cala Salada
Surrounded by a green areas and rocky creeks, Cala Salada and Cala Saladeta are two beaches among the most beautiful and most visited of Ibiza. The beach of Cala Salada is often crowded, but taking a winding path through the rocky cliff s near the shore, it is possible to arrive safely. Beach width size: 30 meters. This beach is only 30 minutes drive from downtown Ibiza.

2.-Cala Conta
Beach of fine, pearly sand with intense blue waters, Cala Conta is one of the most popular coves for tourists during the summer months.Even so, the beauty of the surrounding environment makes your visit essential. Beach width size: 30 meters. Come visit it, it's only 35 minutes drive from downtown Ibiza!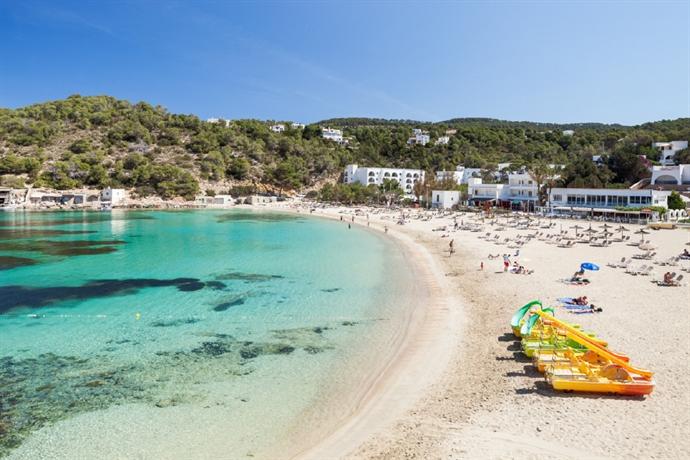 3.-Cala Vadella
Cala Vadella is a subliminal beach with turquoise waters surrounded by rocky creeks that protect bathers from wind and waves. This is the ideal beach for those seeking a pleasant and easily accessible, with all the necessary services. It has the disadvantage of being a beach that can be easily crowded. The beach is on the western part of the island about 25km from downtown Ibiza. Beach width size: 60 meters. A 40 minute drive will take you to this spectacular beach.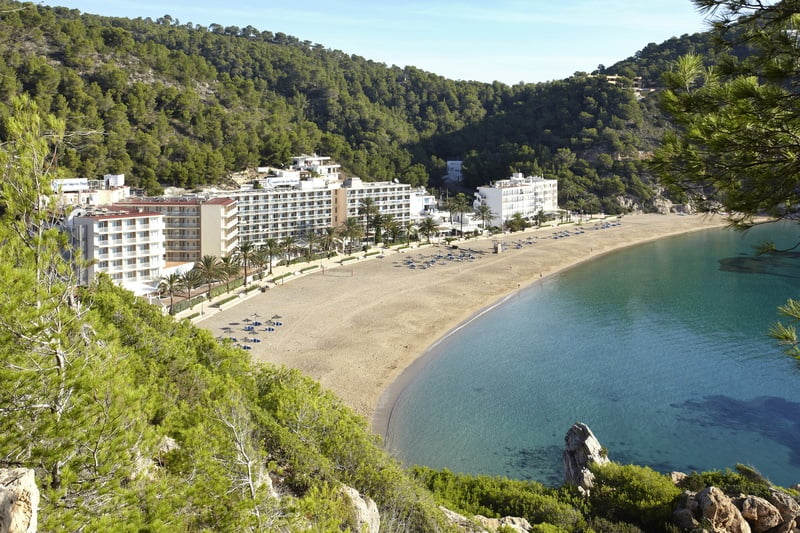 4.-San Vicente
Protected from the wind by pine tree hills, Cala de San Vicente is a large cove with calm and blue waters, located in the north-east of the island. The beach has all types of services and even many hotels and restaurants. It is therefore a very pleasant and convenient place to spend the whole day. Beach width size: 25 meters. You can find this beach 40 minutes away from downtown Ibiza.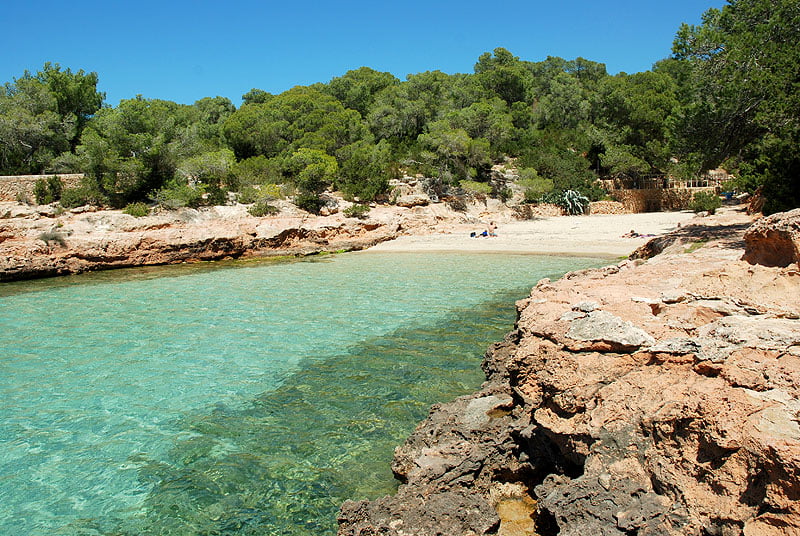 5.-Cala Gracioneta
Close to San Antonio, Cala Gració's little sister, Cala Gracioneta, is a picturesque little cove with pristine clear waters. The waters of Cala Gracioneta are transparent and calm, just like a big swimming pool, and its shore is protected by rocks and pine trees. And that's why it's one of our favorite beaches! Beach width size: 60 meters. A 25 minute drive from downtown Ibiza will take you to this idillic beach.
Did your favorite beach make it to the list? If not, do not worry; send us your comments or recommendations. Are you planning a visit Ibiza this summer? Need a Villa or Apartment for your holiday vacation? Are you considering relocating to Ibiza any time soon? We, at Estela Exclusive Homes can help you find the dream property according to your needs and budget. Contact us for more details.