8 Janvier, 2022
You might think that Atlantis is just a mythical lost city in the Atlantic Ocean. Think again, because in the southeast part of Ibiza there is a real, tangible and stony Atlantis that you can visit, free of charge.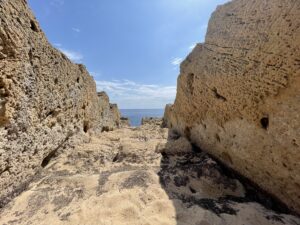 But the Atlantis we are talking about here is not a beach, nor a bay or a lost city. Some describe it as a magical and unique site in Ibiza that holds a lot of energy. The fact is that it is an old sand stone quarry – a place for extraction of stones. The stone extraction left curious shapes in the land with several natural pools that heat up in the summer and the water gets a clear, green-ish color. The hippie settlement named this Atlantis, but the authentic name is Sa Pedrera of Cala d'Hort. Let's go back 2.500 years to understand how this interesting place was created. 
History; the short version 
It is said that around 600 BC the Phoenicians settled in the island and developed the first architecture in Ibiza town. They originally came from what is now called Lebanon and it is said that they were the ones to colonize Ibiza. They might also have started the extract of stones from Atlantis. However, later in the golden era of the 16th century the extraction of marés, the characteristic sandstone of the Balearic Islands, certainly took place in Atlantis or Sa Pedrera. The extracted stones were transported by sea to the capital and Sant Antoni. The stones were amongst other projects used to construct Dalt Vila (translated Upper Town), the wall, for a better defense system against the French and the Ottomans. This is now declared Common heritage of mankind by UNESCO. This extraction process is what made Atlantis how it is today. 
All the cuts of the stones, mostly diagonally, has made curious structures which are both fun and magic to walk on and discover. It is almost like being in a dreamlike landscape. This is probably what the first hippies who came to Ibiza in the 60s must have thought. They chose this place as a place of worship and rest, and because of its energetic feel, being close to the iconic rock Es Vedra, and it's distinctive formations, the Hippies named this place Atlantis. Since then the rocks have been adorned with sculpted figures of fish, Buddhas and appeals for peace. There is also a cave with the figure of a Buddha halfway down to the sea, under a large rock in the area of the dunes. 
How to get there 
The most amazing places are not always easy to get to. This one is no exception. To get there by foot (the other option is by boat), it is recommended that you are in general good health with a good balance as it can be quite steep during parts of the hike. It will take more or less 45 min to get there, depending on your pace. Wear comfy shoes and clothes, as there are areas of rocks, gravel, roots and dunes. And don't get a late start; the adventure to Atlantis might take longer then expected as you discover sculptures and interesting rock formations on your way. And you want to have time to explore once you're down there.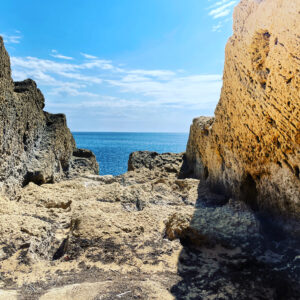 Type in "Sa Pedrera de Cala D'Hort" on your google maps, it'll take you to where to park your car (same parking lot as going to Es Vedra). Once parked, follow the path that leads to the viewpoint of Es Vedra. After a few minutes walking you will see that there is possibility to take a path to the left. Take that path through the forest for another few minutes until you reach a place with views of the sea. To the right an imposing cliff rises where climbing is practiced. But our way to Atlantis is down!
At this point you will understand the recommendation to be in good health for this hike. Although it is not a dangerous path, it is quite complicated to get help if you should get in trouble on your way down to Atlantis. Bring plenty of sunscreen and water; in Atlantis there is no shady area or place where you can set up an umbrella. Also, take some diving goggles. In addition to being able to use them to explore the seabed, you will be able to make sure to avoid the jellyfish, that is common in this area.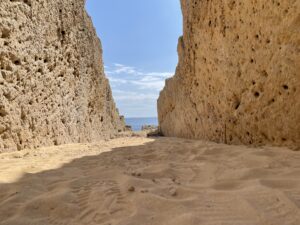 If you plan your day well you can combine this hike with a sunset session overlooking the legendary Es Vedra.