9 Septembre, 2020
Surely this scenario will be very familiar to you: You are organizing your next vacation to Ibiza with your family and you decide to make a list of the activities you dream of doing so that there is enough time for all of them. As you are not selfish, you ask your group their ideas and surely it will all be about walks to the beach, trying new restaurants and of course going to the night spots that are in vogue. That's when your restless spirit gets a bit stressed because while these plans sound super interesting, you would also like to have a bit of adventure and include activities that get your adrenaline pumping.
Well, today we want to tell you that this situation no longer has to be like that and that thanks to the tips that you will find later, you will see that Ibiza is perfect for all kinds of exciting activities / sports / adventures in an incomparable setting. From water and air sports to fun mountain challenges you will have a lot of fun when you are on the island and you will also practice them surrounded by the most spectacular landscapes you can imagine.
Are you starting to get excited? Well, keep reading and get to live different activities, whether you are an amateur looking for new experiences or a true expert.
Well, I want to venture but I don't want to leave my fam. What can I do when we are at the beach?
Water is one of the most interesting places to have fun experiences and you don't have to go alone since you can enjoy your adventure with your whole family if you wish. It is then that, if you are passionate about aquatic plans in the crystal clear waters of Ibiza you can practice activities such as kitesurfing, windsurfing, kayaking, snorkeling, paddle surfing, scuba diving, water skiing or wakeboarding or any other that you may be thinking about … And if you go with a group that is thirsty for laughter, we recommend you try the banana or the seabob.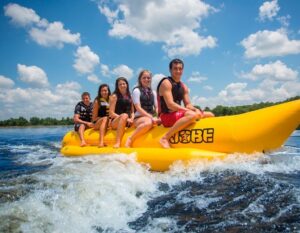 You can enjoy all these experiences on any of the beaches and tourist coves of the island while still doing the typical and calm things like sunbathing or playing volleyball in the sand.
It sounds great but I would definitely like to do things that the whole family participates in, even those who are not good at swimming. Is there something for us?
Of course, and not only something that will make you fulfill the obligation of taking them for a walk, but they will enjoy a lot and remember them forever. Best of all, in this section there are high impact plans that will make your heart beat like an electronic song beat but also super fun plans that do not require you to have the physical conditions of Dwayne Johnson "the rock".
First of all we have a hiking plan and this is one of the most peculiar because in Ibiza, if you want to see something special, you will have to walk. It does not mean that you cannot see beautiful things from the car because with it you can even reach the highest point of the island , Sa Talaia with it (if you dare) but the most spectacular and impressive views are there, within reach of your feet. . In fact, one of the most traveled routes is Es Castellar due to its versatility, since, in its 5 km you can enjoy a great variety of different landscapes which begin with a very open area, passing through a forest and ending in Cala Longa, where you will appreciate beautiful panoramic views of the coast and reward your effort with a swim in the sea.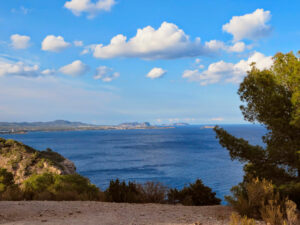 Another great option is to take advantage of the outdoors a bit and plan an afternoon of games in one of the public parks with gyms that are in all areas of Ibiza. Benefits? They are free and some of them have views that, at least, motivate! Paseo Juan Carlos I, Parque de la Paz and Puig D'en Valls, Santa Eulària are just the beginning.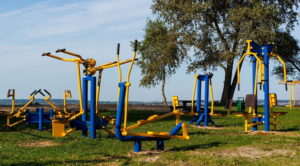 For golf lovers there is an exclusive area where you can practice this addictive sport and next to the course there are some horse riding centers, wonderful cycling routes and climbing routes with spectacular views of the sea.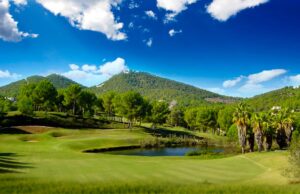 Do you think the sky is the limit? Imagine appreciating the views of Ibiza from the air.
Make up your mind and experience the insurmountable feelings that only flying through the air of the island offer you. You can choose between a ride in a helicopter, balloon, paragliding or try the incomparable combination of land, sea and air when practicing parasailing.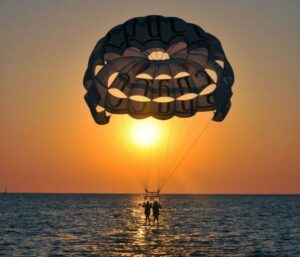 In short, we invite you to look again for your list of activities at this time and fill it in with some (or all) of the options that we have just mentioned. Ibiza more than ever wants to make you live to the fullest and is ready for you not only to exercise and make different unusual plans, but to give you an shot of its magic energy that will make your return home full of dreams and new goals.