31 Août, 2021
Due to the time offs from the quarantines, hotels, restaurants and everything in between have been hard at work looking for ways to renew their leisure offer, making renovations and aligning with the new trends and demands of the "post" Covid world. 
Sometimes, trying to add a new twist to their offer or trying to circumvent the hindering nightlife curfew and reduced capacity measures, while others, making sure the covid measures are not taken lightly for the tranquility of their guests. 
A lot of establishments have had the wit and the time to renovate their facilities and review their whole concept, this has led to a race to incorporate the ultimate and most exclusive features and to become a more complete choice for the incoming waves of tourism expected this summer. 
El Silencio: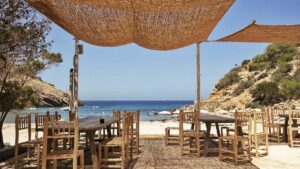 El Silencio at the beautiful Cala Molí is a new opening that has surprised the public with its intimate and soulful atmosphere. A proposal of high meditarrenean cuisine by french chef Jean Imbert that combines the freshest ingredients and local produce with superb taste and thoughtful execution, their menu includes vegetarian only options and also offers a great selection of shells, seafood and meats. 
The menu is creative and self aware and delivers an organic and healthy experience (without giving up on the foodie aspect), coming through super fresh and full of flavor. Their popular dish Jean`s Avocado, consists of an avocado coated in a mysterious black crust lying on a bed of fresh spinach leafs, upon slicing the avocado in half, a perfect yolk is revealed melting inside as it starts spreading everywhere. 
Their cocktail bar by Salmon Guru offers a delicious selection of alcoholic and non alcoholic beverages. Surprises to set the mood are bound to happen, El Silencio is currently hosting an installation by influencer Miranda Makaroff. 
Sublimotion: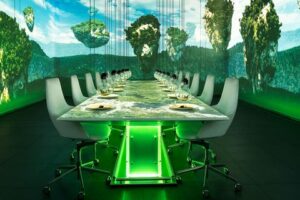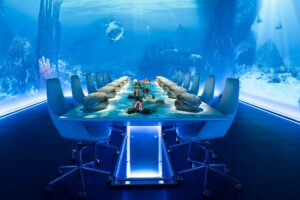 Sublimotion is an ambitious culinary experience, backed by some of the best chefs and artists and masterfully executed as a 360º experience that goes further and beyond a simple dinner. Reopening from July 1st to September 30th and hosted at the Hard Rock Hotel Ibiza, this summer's edition is packed with surprises and top of the industry chefs. 
This year, renowned chef Paco Roncero and Eduardo Gonzales, creative director, have created Sublimotion Limited Edition, designed to pay homage to the 6 year evolution of it's past incarnations. 
Visuals, sound, music, the latest tech, avantgarde cuisine… They all mix beautifully in this operatic ode to high gastronomy and the experience that accompanies it, having great success at creating a unique atmosphere that will surely have you drop your jaw during the dinner. 
To ensure safety and that Covid measures are rigorously followed, this summer they will be working with two groups of 4 or 5 people by night, with a restrictive closed price of 1500 euros per customer. 
Casa Pacha: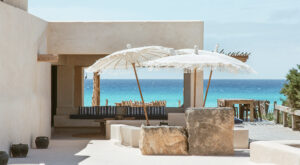 A secluded home away from home where you will find intimacy, tranquility and an all around exquisit stay, the spirit lifting Casa Pacha in Formentera offers deluxe privacy, comfort and relaxation combined with the most stunning sea views with its characteristic turquoise clean waters. 
If you are looking for a more remote, replenishing and exclusive experience look no further, Casa Pacha offers delightful accommodations, amenities and an incredible restaurant, where everything is treated to the highest of standards
The minimalistic and practical design meets luminous spaces and rustic traditional details and furnishes, this is the perfect retreat, your new home inside a paradise awaiting to be discovered.
Salvaje Ibiza: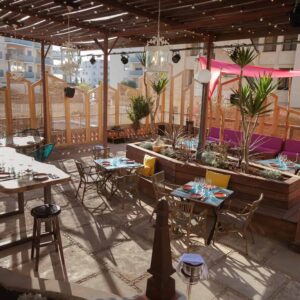 Salvaje is a restaurant opened this season in Cala de Bou which is becoming one of the most vibrant meeting points 2021 summer.
The reasons are simple: an excellent offer of dishes from Mediterranean fusion cuisine, fascinating Shows that change every night and include, among others, musical proposals, dance, performance, a environment loaded with Good vibrations and some awesome cocktails prepared by Axel, considered one of the best mixologists in the world.
Every night a surprise awaits you in Salvaje. The restaurant opens from Tuesday to Sunday from 8 to 2 hours. The shows are held every night between 21 and 23 hours, we leave you a list of this week's events so you don't miss any.