15 Novembre, 2019
The best bars in Ibiza to enjoy a nice cocktail and chillout music.
We have chosen 5 of the best.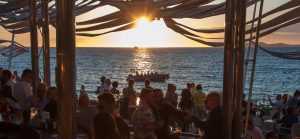 Cafe del Mar
Located at the seafront of San Antonio's promenade, the cafe offers the perfect view of a laid-back sunset accompanied with a good drink. The Cafe del Mar is considered as the sunset bar on the island. In addition to delicious drinks, cold beer and typical Spanish sangria, the Cafe del Mar is a great place to eat. Already in 1980, the Cafe served drinks on its terrace, accompanied by magical sundowners in a relaxed atmosphere with matching music. The Cafe del Mar was an inspiration not only for the opening of further sunset bars in Ibiza, but also became famous for its unique chill-out compilations. The Cafe del Mar has created its very special chillout music, which makes that extraordinary Ibiza flair. The style of music continues to shape Ibiza's music scene to this day, as it is the source of Deephouse sounds, which are not only popular and often played on the island itself.
Cafe Mambo – the Cafe Mambo followed the idea to celebrate music with refreshing drinks and great food. The cafe is, as well as the Cafe del Mar, located at the coast of San Antonio. The menu offers superb international cuisine and offers excellent food for steak- and fish lovers and a priceless Ibizan sunset.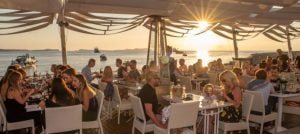 Mint Lounge
Located next to Cafe Mambo on the famous Sunset Strip, the Mint Lounge offers a modern bistro menu with a range from fresh salads and pasta to fruity cocktails. The atmosphere is open, friendly and rounded off with a fantastic sea view, accompanied by casual deep house or chillout music.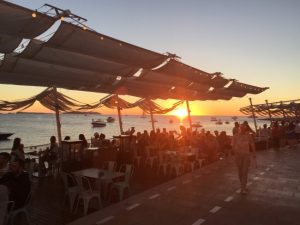 Fresh Ibiza
The perfect choice for those who want to enjoy the sea views in a cozy and relaxed ambience. The Fresh offers delicious homemade gourmet burgers and cocktails to affordable prices. The restaurant is located at the entrance of the Sunset Strip of San Antonio from the harbour towards the west coast.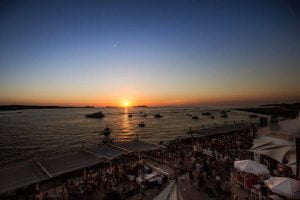 Savannah
Right next to the Fresh is Savannah. Gin connoisseurs and music lovers of the classical generation meet here. The sunset bar on the waterfront prizes above all with its first-class food and the great service. Pre-parties often take place here. So great to start the party night with some warm-up drinks and cool sounds. During the day, the sun and the Ibiza feeling can be enjoyed with relaxed rhythms.