3 Septembre, 2019
You may wonder what else can you do in Ibiza besides partying. Well, Ibiza is world-renowned for its party scene, but this little island in the Mediterranean offers plenty to do apart from partying and its vivid nightlife. Here are a few ways to get off the beaten path and explore the culture, history, and tranquility of Ibiza.
Culture
If you're more interested in the culture of Ibiza today, you can visit the Museum of Contemporary Art, a small but beautiful building sits against the backdrop of the old city. The museum features art from Ibiza, other Balearic islands, and from around the world.
Another great way to enjoy Ibiza's culture is through its food. Ibiza has plenty of restaurants and markets to choose from, but there's no better way to get acquainted with the food scene than by hearing from a local. Take a food tour to taste some of the island's best food and hear the stories behind the dishes at the same time.
When you're ready to get away from the crowds and nightlife, there are plenty of options to get you off the beaten tourist track. Most destinations are easily accessible within an hour's drive from Ibiza. Whether you make Ibiza your home base and take day trips around the island, or whether you want more time to enjoy the tranquility of smaller towns, hiring a car or scooter in Ibiza will make it easy to explore on your own schedule.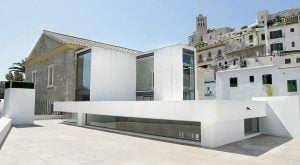 Nature & The Outdoors
When you're ready to enjoy nature, going underground is a great way to do it. The caverns in Sant Miquel are not only geologically fascinating, but were also once used as a hideout for smugglers. You may want to make a day of it in Sant Miquel and hit the beach. Whether you want to enjoy water sports, a walk up the pine-covered hill for a nice view, or just a relaxing day at a small beach, Puerto de San Miguel Beach is a nice option.
For those who crave more space to explore the shores, classic beachy vibes, and a great sunset location, head to Cala Conta Beach (Platja de Comte). Cala Conta is one of the best beaches on Ibiza, and the shallow water makes it a relaxing place to swim. The downside is that this beach gets crowded during the high season, so it's not the place to go if you want to be alone. If you want a quieter place for a sunset or to enjoy a scenic overlook from the rocky cliffs, head to the nearby Mirador Punta Roja.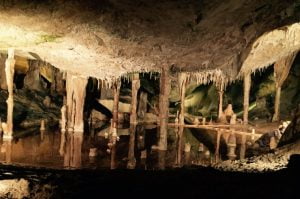 Unusual Attractions
Ibiza also has some unusual attractions to explore. What used to be a rock quarry is now a somewhat hidden beach, and it's aptly named Atlantis. Finding it in the first place and making the trek down the steep cliff may be equally challenging, but what you'll find once you arrive is worth it.
Another interesting attraction in Ibiza is what locals have nicknamed Stonehenge. But this cropping of stone columns isn't a prehistoric monument–it's a contemporary art sculpture called Time and Space that was commissioned by the founder of Cirque du Soleil and created by Australian artist Andrew Rogers. The mystical Island of Es Vedra is seen in the distance from the cliffs where Time and Space is located, and a view of the island was incorporated into the design of the art installation.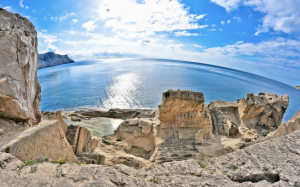 Ibiza isn't just for the partygoers–it's a great option for anyone looking for a beautiful island escape or even for meditation.