17 Septembre, 2019
Travelling to Ibiza with children: why you should go to Ibiza with your family? Actually there are many Ibiza's, almost as many as types of travelers exist. For many, a trip to Ibiza means endless nightclubs and partying until dawn – among which are some of the best clubs in the world – along with some beach time. For others, the bohemian side of the island becomes the main attraction of what to do in Ibiza. And there is also a custom-made Ibiza for families that makes trips with children to Ibiza a success.
The beaches of Ibiza have a deserved reputation, both for its beauty and for the quality of its waters, which makes the island a favorite destination for snorkeling enthusiasts.
Among the best beaches in Ibiza is Ses Salines, selected almost every year among the best on the island- and the very popular, Playa D'en Bossa that has all kinds of water services and activities or Port D'es Torrent that makes up one of the most sheltered natural harbors of the island. If you opt more for the coves, Ibiza offers you some of the most beautiful in the country like Cala Salada and Saladeta with its calm and transparent waters surrounded by pine trees; Cala d'Hort, one of the families' favorites and with wonderful views of the islets of Es Vedrá and Es Vedranell; Cala Comte – or Cala Conta – is world famous and its easy access as well as its crystalline waters make it a favorite for children and finally, Benirrás, a cove that you will want to visit on Sundays at sunset.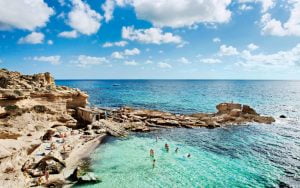 What to do in Ibiza as a family? The best theme parks on Pitiusa Island
Although Ibiza's fame focuses on tourism for young people, the truth is that the island also has a lot of activities for children to have a great time and parents enjoy too. On its beaches you can practice all the water sports you can imagine, from surfing, snorkeling, kayaking or even sailing and the vast majority of them have courses adapted for the little ones.
Ibiza also has the Gran Piruleto Park, a playground with inflatable castles, ball pools and even a multi-adventure area. Although if you are looking for an outdoor adventure on your trip to Ibiza, you may want to visit the Acrobosc, in S'Argamassa, in the area of ​​Es Canar, where children will have at their disposal a lot of games and zip lines for children ranging from 3 to 11 years old.
One of the keys to the success of a holiday with children is to choose the most appropriate hotel for children so that the little ones do not get bored, have various activities with which they can play, learn and enjoy in equal parts and the older ones also have facilities and time to devote to rest. And the great advantage of this trip is that there are hotels in Ibiza for children that ensure an incredible family vacation. However, if you want more privacy and want to keep away from crowds, you can always opt for a vacation rental of an apartment, house or villa.  These accommodations are incredibly reasonable priced compared to hotel rates but you must book them ahead of time.