1 Oktober, 2020
Definitely Ibiza is an island that never stops pleasing its visitors and adapting to the entertainment demands of society that are now very variable, so you will surely agree with us that the alternatives will never be enough when talking about enjoying the exquisite dishes in various settings in Ibiza regardless of whether you prefer beach plans, romantic getaways or of course, pre-party meals.
Consequently, right now is the ideal time for you to take advantage of a dream climate, seasonal raw materials of unbeatable flavor and not so overwhelming traffic of tourists so that you can reward yourself, and all your friends, with wonderful experiences that in addition to becoming one more piece from your album of priceless memories, they will be a trophy for your palate.
If you are a faithful follower of our blog, you will also know that in one of the previous publications we presented you with a range of ideas or options that where related to restaurants in Ibiza that, even when they are recognized for their haute cuisine, also have the particularity that they remain open during the fall and that in turn, they renew their menus so that you always get into new gastronomic adventures… And challenge them to never stop improving their quality.
On the other hand, because the offer is greater each year and always, at least in our case, we have pending subjects before the holidays, we want to continue sharing with you the spots that are in vogue and that you cannot miss at this time:
Beautiful harbor views, italian details and explosive flavors… All in one place: La Trattoria del Mar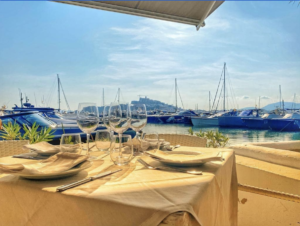 Not only Repsol and its restaurant guide recognize its excellence, but everyone who has the pleasure of visiting this beautiful restaurant located in the Marina Botafoch will be able to validate that the quality and extravagance of flavors that are evident in each dish of La Trattoria del Mar, make this place deservedly a gastronomic icon on the island.
The brothers Antonio, Luciano and Alessandro D'Ambrosio are the chefs and as you can guess, they are of Italian origin, so their main objective is that with each bite you try, you travel to Italy in all its splendor. That is why in addition to the obvious freshness of their ingredients, these brothers, their entire team and "la recette della nonna" add modern touches to delicious traditional Italian food to offer you dishes such as homemade pappardelle with lobster, risotto a la Pescatora, tuna grilled, spaghetti with clams .. Just naming them makes our mouths water.
Do you want to enjoy an atmosphere 100% full of joy and entertainment? Come to Es Noray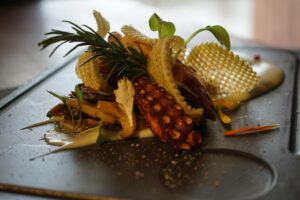 The best seasonal fish come from the sea or from their own nursery to quickly go to a professional kitchen that result in dishes that guarantee the enjoyment of diners such as paella, meats and of course charcoal grills … All this and a lot much more is part of what you will enjoy on the terrace of Es Noray, which is a famous meeting point in Ibiza that offers a relaxed and discreet atmosphere, but also invites long talks both at lunch and dinner.
Likewise, Es Noray is a restaurant that beyond ensuring a delicious Mediterranean food and house wines, is focused on surrounding yourself with complementary elements such as music, great service, live shows and the opportunity to witness the most fun parades of the most daring characters; all with the unique purpose of making your experience as  complete as possible.
So if you want to fully immerse yourself in the most lively atmosphere of the island, you cannot miss this beautiful place (between 12 and 2 in the morning) that is located in the famous restaurant street of the port of Ibiza. If you do not locate yourself, you can ask anyone on the island, since they will surely know it.
This is not all… In Ibiza there are no limits
It is then that, there are many options such as Ohana, Caos, Loveat and Bambuddha that join those that we already mentioned to be part of this great gastronomic repertoire and that with their beautifully decorated and designed spaces, animation and excellent culinary proposal, they will make the fall season start with the right foot… They are all an ace up their sleeve.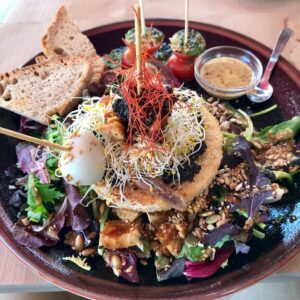 That's it for now! We won't tell you more because we want you to be the one to visit all the restaurants with renovated menus and spaces in Ibiza and share your general opinion about it. However, if you stay only with the options we gave you, we assure you that many surprises await you on your visit to these little pieces of heaven, since, as many of us already know… Whatever the circumstance and at any time of the year, Ibiza will always be a paradise full of incredible food that will cheer your stomach and your heart.