23 Dezember, 2019
Ibiza beaches are absolutely stunning and if you go to visit the island possibly is because you love resting in the sand and tanning your body. However, Ibiza, as you probably know, sometimes is quite exclusive. Some of the most beautiful beaches are only accessible if you go by boat!
Maybe you have a boat or you have some friends who owns a boat, then you probably know all the tips and best routes. But if you are going to rent a boat for one day and you are not sure what are the best places to go then this post is for you!
First of all, you need to know that the winds are very important. Event Ibiza is not as windy as the Atlantic Ocean, you should check the weather before you go.
There is a very useful website: Goa Catamaran with all details of wind forecast in Ibiza and Formentera. You can check the weather conditions for the next five days and gives you recommendations on where to go by boat depending on the wind speed forecast, wind direction forecast, the temperature forecast the rainfall forecast.
Always check the weather before you decide to leave the dock. It is much better to postpone a trip than to become a casualty of the weather.
Now that you are sure the weather is perfect, you should choose which type of boat.
There are many different boats but in Ibiza you could say there are just two basic types of sail boats; cruising sailboats and racing boats, plus perhaps those 'cruiser-racer' hybrids which hover on the borderline between the two.
Yacht:today's yachts are almost exclusively for leisure. A yacht is any sail or power vessel used for pleasure, cruising, or racing.
Yacht lengths normally range from 7 meters up to dozens of meters. A luxury craft smaller than 12 meters is more commonly called a cabin cruiser or simply a cruiser. Yachts may be classified as "large" (over 24 m), "commercial," carrying no more than 12 passengers; "private," which solely for the pleasure of the owner and guests, or by flag, the country under which it is registered.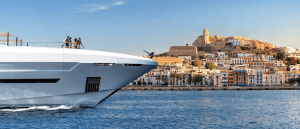 Sailboat:A sailboat or sailing boat is a boatpropelled partly or entirely by sails smaller than a sailing ship. Distinctions in what constitutes a sailing boat and ship vary by region and maritime culture. The common sailboat comprises eight essential parts: hull, tiller, rudder, mainsail, mast, boom, jib and keel. The hull is the shell of the boat, which contains all the internal components. Its symmetrical shape balances the sailboat and reduces drag, or the backward pull caused by friction, as it moves in the water.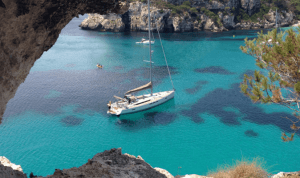 Some of the most stunning places to go are typically those that are not available by car, or some calas without sand, just rocks, so they are mostly empty. Here some recommendations:
This area of the island and Blue Marlin is ideal for trips from Ibiza Town, this beautiful route takes you past historic Dalt Villa, Figueretas, lively Playa den Bossa, Es Cavallet, Salinas, Es Codolar and Sa Caleta. It's an absolutely stunning trip. Many guests take advantage of our cool water toys, messing around on the water before arriving, glowing with vitality at beautiful, glamorous Blue Marlin.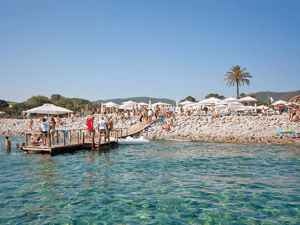 Es Vedra and Atlantis are Ibiza's most famous rock is shrouded in mystery and legend. It's said that Es Vedra is the third most magnetic place on earth after the north and south poles. Over the centuries, it's been the location for countless UFO sightings and reports of unusual
In the north west area of the island is really beaufiful to go visit Cala Gracio or Gracioneta, Cala Salada or Saladita and Benirras. Impressive sunsets and transparent water.
A bit more south, the top three Calas are Cala Conta, Cala Tarida, Cala Bassa. These three beaches are the favorites of many Ibiza residents and are a real treat for those who love photography.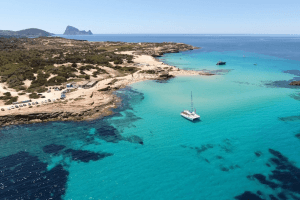 Cala Conta is one of the most popular beaches in the island. Made by fine and pearly sands and waters of an intense turquoise color, Cala Conta offers an idyllic landscape that makes it one of the favorite beaches for tourists and the inhabitants of San Antonio. It is always better not to go in August because is very busy!
And of course, Formentera, but this paradise deserves a separate post!!