24 Janvier, 2023
Valentine's Day is that time early in the year, right on February 14, when couples and friends celebrate love and romance in many regions of the world. Valentine's Day originated as a Christian feast day honoring one or two early Christian martyrs named Saint Valentine. This has also become a religious, commercial, and cultural celebration worldwide. 
The festivity dates back to the third century in Rome when a priest named Valentin opposed the order of Emperor Claudius II. Who decided to prohibit the celebration of marriages for young people. Valentine began to celebrate in secret for young lovers, and it became popular that Valentine is the patron saint of lovers.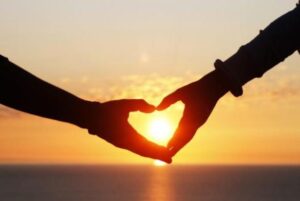 However, in Ibiza, there are many activities that can be done with your partner or friends to celebrate this day of love. Here are some plans to spend February 14 in Ibiza. 
Great restaurants for Saint Valentine's Day 
On the island, many restaurants have a special Valentine's menu, which could be an effective plan for couples. Some of these restaurants are: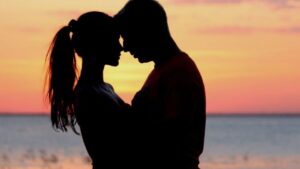 A mi manera Ibiza:
A Mi Manera restaurant is one of those magical places in the Pitiusas. One of those that we see in the movies but never find in reality. In his idyllic garden, everything seems to be measured to the millimeter to create a unique, dreamlike and, welcoming environment in equal parts. Surrounded by forest, A Mi Manera is an oasis in which the grove gives way to a clearing in which the organic garden from which its kitchen is nourished is the protagonist, and around which the tables are distributed where, like picnic, we will enjoy a meal in the middle of nature. It is a good option for Valentine's Day.
El Naranjo Ibiza:
El Naranjo usually prepares a Saint Valentine's menu for you to enjoy a nice dinner with your special person.
Restaurant Sa Caleta:
Ibiza is one of the jewels of the Mediterranean. Its virgin coves with crystalline waters and golden sands framed between junipers and pines that gently descend the slopes of its mountains to the coast. Have become the greatest tourist experience in the world. Sa Caleta is located in one of these coves, one of the few beach restaurants that remain open all year round. Is located on the homonymous beach, specifically in the city of Eivissa, in the municipality of Sant Jordi.
Hostal La Torre:
The restaurant has a beautiful terrace in a bucolic natural setting that makes the restaurant one of the best places to dine on Valentine's Day with your partner. The place is located on a cliff in Cap Negret. Hostal La Torre stands as a true watchtower over the intense blue waters on the west coast of Ibiza. 
Roto Club:
Ibiza has many lovely places, however, one of them is Roto Club, located in the Ibiza marina. It has stunning views of the entire island, an exclusive atmosphere, art, music, and a kitchen with a strong Mediterranean accent. A complete agreement to enjoy an unforgettable Valentine's night
Leisure plans 
On the island there are many leisure plans. That can be convenient to spend a good Valentine's Day, some of these plans are: 
A trip to Formentera
:
To spend a day alone, a good intimate, and quiet Valentine's Day plan is to make a getaway from Ibiza to Formentera. Formentera is the smallest island in the Balearic Islands and many say the most beautiful. On the island, you can enjoy paradisiacal beaches with much fewer people compared to Ibiza. In the morning you can visit the different towns of the island that each one has its charm. You can also visit Ses Illetes beach to take a walk and watch the sunset with your partner.
Horse route for couples in Ibiza:
To surprise your partner, you can organize a horseback ride, an ideal option for those who love nature and animals. There are several companies that offer horseback riding to get to know another perspective of the island. There are others that organize night outings on horseback and in others, you can splash in the sea with the animals.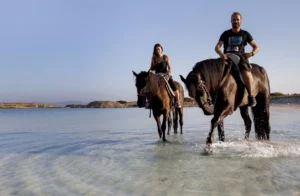 Spa day with your couple
:
Spending a day at a spa is one of the best plans to celebrate Valentine's Day as a couple. The idea of ​​giving a spa circuit and then enjoying a relaxing couple's massage is romantic idea to do on Valentine's Day. The spa can be contracted in hotels and agro-tourism that have a spa area. To enjoy this experience you should only wear a swimsuit or a bikini, a towel, and flip-flops
These are some leisure plans that you can do in Ibiza for Valentine's Day. There are many others, but these stand out for being fun and intimate. Regarding restaurants, Ibiza has a wide range of options. These restaurants stand out for having a perfect romantic vibe for you and your partner.