5 Mars, 2020
Many local business and international investors are now being aware of the responsible and natural consumption in the island.
More and more, Ibiza is offering their residents and visitors, organic restaurants and responsible shops, so everyone can contribute to help maintain the ecosystem of the island.
In this post we had brought some examples of great initiatives, enjoy and share them!
1. Biosmell Ibiza.
Irene Carrasco was for years asking herself how much plastic we use, and we waste. Last year she sat up a new business: Biosmell, not only for helping people to reduce their waste, but for to reduce their consumption. Her business has become is the first store in Eivissa to sell cleaning and hygiene products in bulk.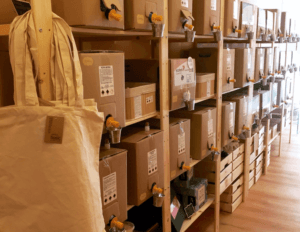 All products are biodegradable and none of the cleaning products have petroleum among its ingredients, which you find in 90% of these products in traditional supermarkets3 . They do not work with bleach or ammonia or anything that could harm the environment. In addition to not contaminating the environment, you reduce toxic in your skin because the bath gel you put it directly on the skin, but the detergent has substances that remain in the clothes and then you put the clothes; it's all much more natural and, in fact, people who have allergies do these products very well.
2. Biorganic
Biorganic is the trendy corner of healthy food, organic products and superfoods in Ibiza. With two establishments on the island, one in Vila and another in Santa Eulària, Biorganic offers all kinds of foods such as fruits, vegetables, gluten-free foods, legumes, bulk, quinoa and several essential superfoods for our health and well-being, which are synonymous with Nutritional quality, taste and vitamins.
In addition, it sells wholesale through Biocash to other hospitality and catering establishments for those premises that have decided to bet on high quality products, and that have seen their demand increased, as customers are increasingly demanding and looking for premises with organic or bio products.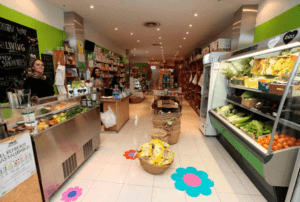 3.Natural 1
If you're looking for a healthier, more natural diet, organic food and natural dietary supplements, as well as superfoods, you are looking for Natural 1. Located in Vía Púnica, in this store you can find all type of ecological and integral foods: cereals, legumes, vegetable drinks, vegetarian alternatives, for coeliacs, for diabetics and for all type of intolerances.
Also, fruits and vegetables are zero kilometer, to reduce the environmental impact by buying products from the land.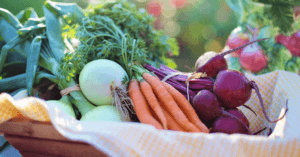 4.Ibizaloe
Natural and environmentally friendly cosmetics is also a trend that has come to stay. In recent years Ibiza has seen how more and more organic cosmetic products have appeared.
Eivissa is an ideal place for growing aloe vera. Ibizaloe, according to its creator, is a natural cosmetics company made with 100% Eivissa aloe vera whose products are free of chemicals, parabens, silicones and are not tested on animals. An ecological product aware of the environment and now successful for both residents and visitors.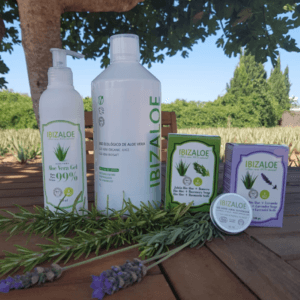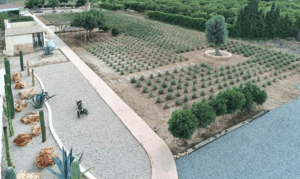 5.Mercadillo Dominical
Another great way to contribute helping the environment in Ibiza is buying artisanal and local arts and crafts. Ibiza's culture and tradition are very popular and creative. There are regular craft markets where you can see the artisans making products of all kinds, from clothes to decoration, and where you can also buy organic and zero kilometre food.
On Sundays you can't miss the ''Mercadillo Dominical'' in San Juan. This market is becoming very trendy now. You can find food produced in the surroundings, drinks, ecological bath articles and specially, good quality clothing and accessories. There is also live music starting at 12 noon. Both residents and visitors come from the island, it has an eclectic and very festive atmosphere.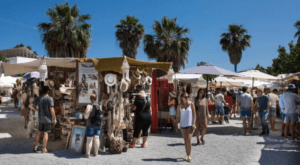 Some people are choosing now this type of products for health reasons, to be committed to the environment or to support local producers. The truth is that ecological and zero-kilometre alternatives are in increasing demand.
There are also official organizations to help maintain the island. One of them is The Ibiza Preservation Fund which exists to preserve Ibiza and Formentera's exceptional beauty and natural value and to promote sustainable initiatives. Their main focus is the conservation of the countryside and the protection of the marine environment. We will have a separate post to talk about this amazing initiative.
Luckily, buying organic products in Ibiza (whether food, cosmetics, handicrafts, …) is increasingly common due to the wide variety of establishments that have joined this trend.