2 Ottobre, 2019
When people speak of the best local markets in Ibiza they are usually talking about the two famous hippy markets, Las Dalias and Punta Arabí.
It's worth seeking out some of the smaller ones for their local feel and their local products and produce.
Whether you enjoy a hand-crafted jewelry or accessories, original art, fresh fruit and vegetables or a nice gift, you are sure to find something local and special at one of Ibiza's more cute and compact markets. Here we present you the best local markets in Ibiza.
Art and Mercat San Antonio
Located in San Antonio's old town close to the church on Saturday evenings and all year around, is this new market. The colorful stalls offer everything from hand-made handbags, original paintings as well as things like organic fruit and vegetables.
This market sells a range of vibrant clothing from t-shirts to multi-colored ponchos, there are even shirts made from bamboo fiber that are nice and sustainable. Merchants are mainly locals offering a variety of goods like handmade jewelry, bags, clothing and even tea. You will also find locally grown vegetables and Ibizan herbs liquor.
Live music and bands perform every week and a there is a variety of fun activities to keep children entertained. Taking place during evenings in summer and daytimes in winter, it's very pleasant strolling and stopping to pick up some handmade jewelry or even a mandala to hang at home.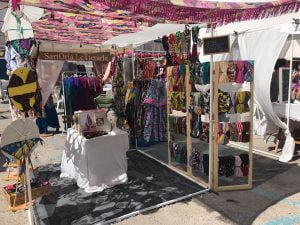 Forada Market
Forada market was conceived to support local farmers and producers and help self-sustain the community around it. Located next to the famous art cafe Can Tixedo in this tiny village, there is a real countryside feel to the market, being right next to fields and pretty countryside. It's hard to believe that this little market is only a few kilometers from San Antonio or San Rafael.
Much of the focus is on selling items that are grown or made on the island, with local artisanal, and natural products. You will find stands selling natural cosmetics and ceramics, products made from Ibiza aloe vera, fresh fruit and vegetables, local honey and homemade preserves.
This lovely little market runs each Saturday from morning to late afternoon throughout the year, sometimes with live performances of world music. If you're feeling hungry, know that stands do sell food or soft drinks across the road to Can Tixedo for a reasonably priced sit-down meal. Forada market has a special appeal and is one of the most "local" on the island.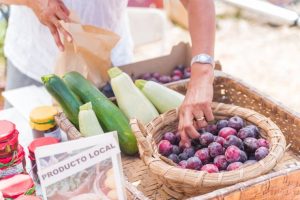 Ecological food and Craft Market San José
A great eco-market located in the charming village of San José run by local people. You'll find local organic products, including fresh fruit and vegetables and homemade pastries plus paintings and handmade ceramics.
You will also find stalls offering a colorful collection of handcrafted accessories including beaded necklaces and bracelets, hand-made fans and woven baskets.
Workshops are offered occasionally and are fun and educational, with opportunities to take part in baking bread, making compost and growing herbs and on how to help the environment. Markets like this one are popular with residents and tourists that want to experience a market that again puts the accent on local and care for the environment.
This is a summer market only, running mornings each Saturday from mid June through to the end of October.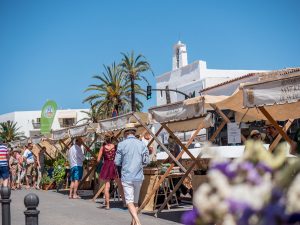 For a piece of market life that is more traditional in Ibiza, these markets will leave you delighted with their simple charms and beautiful atmosphere.