13 Gennaio, 2020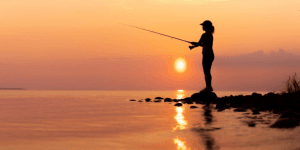 Fishing in Ibiza is characterized by its great biological diversity in a unique way. Enjoy the best sport fishing with an authentic fisherman from Ibiza.
Recreational fishing and underwater fishing in Ibiza are very common practices on the islands and are perfectly regulated.
The first thing we should know is the differentiation between internal and external waters.
Inland waters are the portions of the sea that are located within lines drawn in an imaginary way from different points of the coast. Beyond these lines, they are considered foreign waters, and as such, they are the responsibility of the State Administration. Inland waters, on the other hand, are affected by the limitations imposed by the government of the islands. Keep in mind that natural reserves enjoy special protection. If you already know what type of fishing you are going to practice, remember that you will also need the corresponding license.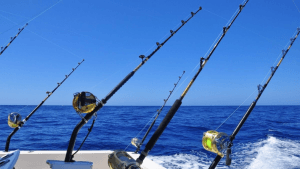 Fishing in Ibiza has been practiced since time immemorial, however, today it has also become a great claim for tourists. But before you go fishing you should know that in Ibiza you will find five types of licenses:
Individual: from land or boat, for people over 14. It costs about 13€ and lasts two years.
Collective: from 6th list boat, for a maximum of 12 people. It has a cost of 400€. Valid for one year.
Spearfishing: for over 16 years in possession of federative license. It has a cost of 15€. Valid for one year.
Sports:to participate in official competitions and training. Valid for one year.
Of boat: for boats of 7th list and a maximum of five people. For boats of less than six meters long, it costs 32 € and 59€ for the rest. The duration is three years.
Keep in mind that this information is an excerpt from the Recreational Fishing book published by the Balearic Government, so it may contain interpretation errors or have undergone changes in its cost and duration. Children under fourteen do not need any license for individual or boat fishing, but remember that the Ibizan coast is usually very steep, and although the Mediterranean is a benevolent sea, it is not without danger.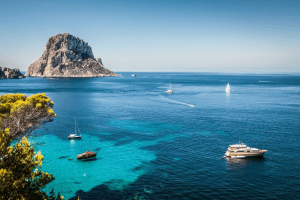 Fishing is one of the oldest professions and hobbies in the world, has always had a great weight in Ibiza.
It is a great reward go fising and then eating your best captures. But the whole technique is not that easy. You need to know very well where to go and depending on the weather, the dates and the type of fishing.
In Ibiza, Neighborhoods such as La Marina or Sa Penya were a refuge for fishermen They stopped at the port after intense days of work. On the docks we can still see the precious llaüts they used to go out to fish and the landscape of many beaches is full of traditional fishermen's houses (booths) where they put their boats safe.
Cala Carbó is very typical for beginners. The deep water is very good so it is relatively easy to find Sirvia o 'pez limón'.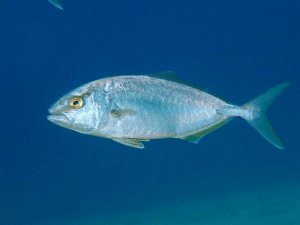 San Antonio Bay is a famed fishing location in Ibiza, but nowadays it is more about having fun than catching lots of fish. Standard trips are designed to last for three to four hours, though a day-long fishing experience amidst the bay's reefs is also available. Although tuna is not as huge as it used to be years ago, the fish is still plentiful and the luckiest ones might have both—fun and a good catch.
The fishing season falls on period from May to September.
 In terms of marine species, the richness and diversity of the Balearic marine ecosystem it is one of its main characteristics.
Obviously, the catches you make in Ibiza will depend on the coastal area in which you are and the modality you practice. Among many others, some of the species that you can come across in Ibiza are the sirvia, the rooster, the raor, the gerret, the red mullet, the dentex, the grouper, the little tuna, the horse mackerel, the octopus or the squid.
But, if you are a fishing 'posturing' and really what you love is eating fish. Here some top restaurants for fish:
Baked fish from the Balneario de Cala Carbó restaurant. It doesn't matter if it's mere, red or rooster of San Pedro. As they prepare it, with a touch of iron, it is exquisite.
The Fideuà of fish and seafood from Es Torrent. In Ibiza there are dozens of fideuás, but the touch they give in this luxury beach bar is unique.
Ca n'Alfredo's crap burrida. This stripe stew is a typical dish of the island and in Ca n'Alfredo they embroider it.