13 Agosto, 2020
It is impossible not to imagine the wonderful beaches, coves, salt flats and the unstoppable party life when talking about the Island of Ibiza, and these are actually one of the most important attractions of this international paradise. However, the white island is a magical chest that has infinite gifts to offer to all those who visit or reside on it, so not everything ends in a walk to the beach or a good party that ends with the sunrise.
Although it is true that much of the island's landscape is starred by young people who never tire of dancing and sunbathing, there is also another group of tourists (such as family groups, contemporary adults or simply people with more relaxed preferences) who also have great desire to go to this Spanish paradise but are looking for a more alternative environment with different plans than being in the water or in a night club.
For all of them and for those who want to complement their trip with unforgettable activities, here are some fun experiences you can do when you are in Ibiza:
To get to know it, you have to go through it. Take a motorcycle or car ride around the island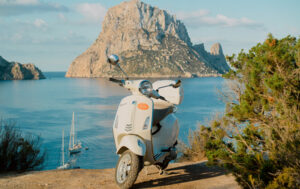 It is important for you to know that the island is only 45 km long and 25 km wide, so you can practically see almost the entire island in one day. To make the most of your vacation time, we recommend including these 4 places in your tour:
Eivissa: Capital of the island. If you enjoy the architecture and walls, you cannot miss it.
Sant Josep de Sa Talaia: South of the Island. In Sa Talaia there are heavenly views and it is in this area where the famous Ses Salines natural park is located.
San Antonio: It will stop being the cover of an album to be a real image… Enjoy there the best sunsets.
Santa Eulária des Riu: The old part of the city is an excellent plan to enjoy with the family.
Santa Gertrudis: Ibiza's lovelies Village.
Shopping is always a good idea .. And if it is in a Hippie Market, it is even better!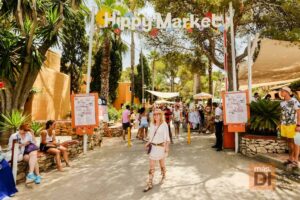 If you want to take original and fun souvenirs from the island and also have a hippie touch, these markets are for you.
Here you can find clothes, jewelry, decorative items, etc. and the environment of the market is usually completed with live music or different performances depending on its location (in almost every town there is one). Among the most popular are: Las Dalias, Sant Joan, Punta Arabí, Cala Llonga, San Rafael and Art & Mercat San Antonio.
The Can Marcá cave will be a great experience for the whole family.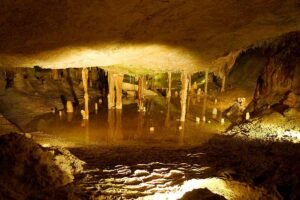 Located inside a cliff in Port de Sant Miquel, the Can Marcá Cave is a beautiful natural enclave and represents one of the most visited tourist attractions in the north of the island. The cave offers a 40-minute tour around stalactites, stalagmites, waterfalls and small lakes… Simply spectacular to enjoy with your group.
Es Vedrá: A mystery that only you can decipher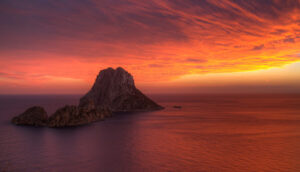 One of Ibiza's favorite places is curiously outside of Ibiza? Yes. This huge rock pyramid is located in the southwest of the island in front of Cala d'Hort. It is a 382 meter high islet that is surrounded by many mysteries and legends, including the belief that it has magical properties and energy accumulation.
Although no one is authorized to visit the islet, we recommend you go to Es Vedrà, since, from the Torre des Savinar or Torre del Pirata you get the best views… and therefore the best photographs.
A large-scale nativity scene .. That's what you will feel when you walk through Dalt Vila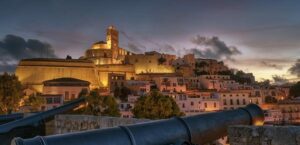 If you have ever seen a painting with beautiful picturesque houses, with original windows and flowers of different colors adorning the landscape, you have a very precise idea of ​​what Dalt Vila is like. This beautiful town that is crowned by a cathedral and framed between imposing walls is a World Heritage Site that will undoubtedly steal your heart and that of your loved ones… Also from this point the views of the city are formidable!
Close your day with the most famous (and beautiful) sunset you can imagine
Whether you go to Cala Benirras or a spot in San Antonio called Hostal La Torre we are sure you will appreciate this recommendation, since there is no sensation in the world that compares with enjoying the fabulous sunset that can only be seen in these places, which also decorate the moment with relaxing and fun music such as hippie drums and contemporary classics.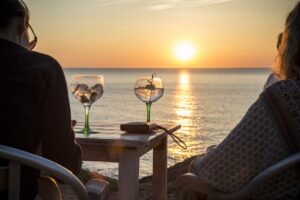 It is then that there are no more doubts, each member of your travel group, regardless of their tastes and preferences when it comes to recreational plans, will be able to take advantage of their next vacations… Remember that Ibiza is the island that everyone loves and everyone pleased. Don't say we didn't tell you!