29 Ottobre, 2020
After this atypical summer and leaving the last rays of the sun behind, one of the most anticipated weekends of the year on the island is approaching… Halloween weekend! Despite the fact that this year we have to forget about the usual parties and celebrations, you can still go out and enjoy the most terrifyingly fun day of the year. In Ibiza there is no way of stopping this party from taking place and here we are going to tell you the best places where to celebrate:
Mikala Ibiza returns this Saturday with the best house music, and it was to be expected since this October renowned artists such as Ricardo Villalobos and Seth Troxler have passed through this restaurant located in Las Salinas. For this weekend they still have not revealed who will be in the decks, but we are sure they will not disappoint. We can also enjoy the best grilled Argentine meat and cocktails, whose aromas can be appreciated before sitting at the table
As usual, at Hostal la Torre we will have the best sunset on the island. But this time, a special touch will be added to the intensity and mysticism of the colors that can be appreciated at this time of year, since their Halloween event begins at 5:00 p.m. During this day the decoration will take you to the most terrifying place while you enjoy the music of Andy Baster, a DJ with the innate ability to read any dance floor. There is no finer example than his home base of Pacha Ibiza, where he has covered every genre of music over his ten-year stint as year-round resident and international touring artist.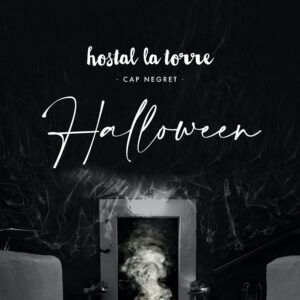 Beso Beach Ibiza brings you to Playa de Las Salinas, an unbeatable scenery, "Horror Island Beso Clandestino Halloween Special", a unique edition of its well-known Saturday event with Álvaro Suárez on the decks as a guest DJ. In addition, there will be a performance, a costume contest and much more … Only suitable for the bravest! To be able to attend you will have to reserve a table that will give you the right to enjoy its closed menu which they are pleased to reveal: First they will have a pumpkin cream roasted with coconut milk and crunchy Iberian ham, seasonal mushrooms sautéed with eggs at low temperature and essence of truffle and grilled octopus on creamy onion and crunchy purple potato. Second, we can choose between a turbot fillet on a soft creamy risotto of prawns and asparagus or a grilled beef tenderloin accompanied by chestnut puree and caramelized shallots. To finish, the best seasonal desserts: roasted chestnuts, panellets and mistela.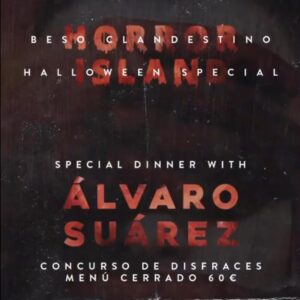 At Casa Maca they have a true devotion to celebrating Halloween. The beautiful rural hotel and restaurant Casa Maca, on the outskirts of Ibiza town, has prepared a very special plan for you to celebrate this year. The event will begin at 1:00 p.m. and during which you will be able to enjoy the exquisite cuisine of Casa Maca and an absolutely unique environment, with a rural flavor and unbeatable views of Dalt Villa. In addition, you can enjoy a great music session, with Dj Abel and the Medusa Odyssey group live, that together with that special atmosphere of Casa Maca there is no doubt that you will have a memorable time.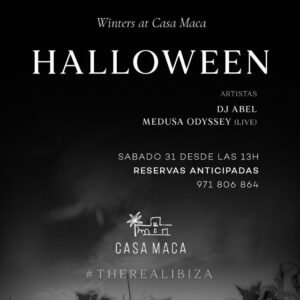 We could not forget Alma Beach Ibiza, where this weekend is the kick off of its Boho Islanders winter parties with which they want to guide attendees through a gastronomic and musical tour from 1:00 p.m. This weekend they kick off with live music from Camilo Franco, Space Ibiza resident DJ and Ibiza icon and Igor Marijuan, Ibiza Sonica radio eminence. They will also have a very special performance that, together with the typical light show of their usual sunsets, promises to leave more than one stunned.
Finally, in Las Dalias, they are full of energy to celebrate and offer you the best in an environment that will not disappoint you. On Saturday, as usual, there will be a Hippy market starting at 10:00, with free admission. You can enjoy a walk among the treasures of its artisans. On Sunday, we can enjoy Vermú with Los Suruba and Nomad Music, which you cannot miss, since, as you know, throughout the season it has been the reference point of this new concept of restaurant-club that has satiated most clubbers in these tough times, and this Halloween is going to be a very special one. We do not forget to tell you that during both days the Squid Day will be celebrated in San Carlos, and in Las Dalias you will be able to enjoy their rice with squid, squid sandwiches with aioli, fried squid and Andalusian squid, which we are sure that they will surprise the most demanding palates