5 Novembre, 2021
Now that there is less clubbing on the island,  there is more space to turn inwards. 
To be in nature. 
To find your balance. 
To cleanse the body. 
To do some yoga. 
Either if yoga is totally new for you or if Mayurasana is something you do first thing in the morning, you will find a studio or a suitable spot in nature where you can enjoy moving your body. Ibiza is full of studios who offers styles from yin nidra to ashtanga yoga. That is everything between restorative, relaxing «sleeping» yoga to disciplined-sweaty-power yoga. You're just a quick google search away from finding your preferred place and style, but here you'll get a few guidelines to the what's and where's when it comes to yoga in Ibiza. 
Yoga in nature 
Let's start with yoga in the nature. Few things beat the powerful energy that comes with a mind-body practice at dusk or dawn. The beauty of the small island is that you can follow the sun from the moment it arises from the horizon in the east till the very last rays of sunlight are lost in the ocean in the west. Regardless if you're an early bird or you like to sleep in, you have the chance to witness the sun with its spectacular color show in the horizon whilst on Ibiza. Here's where: 
Sunrise – there are several places to see the sunrise and have a little morning practice in peace and quiet. Basically as long as you have eyes on east horizon you will see it. But here comes a few suggestions:
The Cove of Aguas Blancas

 between San Carlos and Cala San Vicente is a small, quite untouched beach perfect for this purpose. 

Es Figueral Beach

 – this beach is beautiful to watch the sunrise, and twice a year there is a yoga retreat by YogaFit happening here where you can join classes at dawn. 

Punta de s'esglesia

 

vella

 in Santa Eulalia is a stunning scenic viewpoint where you have many choices to sit between trees and stones for a quiet sunrise. At the top there is also a big flat area suitable for laying down your own mat if you wish. It's just a 5 min walk from the sea level, so don't worry about a steep morning hike. 
Sunset – this Island holds a lot of energy at the end of the day. If you move around to different locations at sunset you will probably see yoga classes in action. Don't be afraid to ask to join in, often they are donation based. 
Benirras beach

 is located on the north, and is a popular place to end the day. The view of the "Finger of God" together with drummers (on Sundays during summer) makes this sunset spot rather unique. 

Es Vedra

 is the rock you see from 

Mirador de Es Vedra

 or 

Cala d'Hort

. It might well be the most popular sunset scene in Ibiza. You are very likely to find someone hosting a sunset yoga class here if you give it a search online. If you want to practice yourself: bring your mat, feel the energy and make a wish at this magical site. 

Las Salinas

 is another picturesque sunset location. You can bring your mat, your bike or just go for a walk here and observe as the colors of the sunset reflects on the salt lakes. It might be less popular than the two previous suggestions, which makes it perfect for a moving meditation into the night. 
A few indoor options
Ibiza town 
In the city centre and surroundings there are multiple yoga studios. Here comes two examples who together offer a vide range of classes. 
Awa Yoga – Just a stone's throw away from Ibiza city center you'll find the temple that Awa designed and built solely to hold that dedicated space for her yoga classes. At the temple there are classes 6 days a week, and the styles are vinyasa, hatha, yin, power, stretch and classes with props. Www.awayoga.life.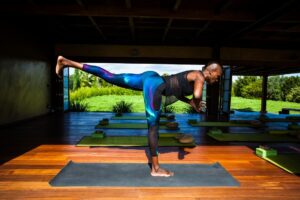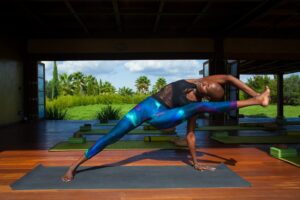 White Yoga – This studio has classes all week except Sundays. Here you can enjoy deep stretch with yin, sweaty hatha, kundalini, vinyasa, gravity and aerial yoga. The studio even offers a brand new yoga practice – Swave yoga. This yoga practice happens on a board that looks like a surfboard, but on land. Read more about this and the studio at www.whiteyoga.es.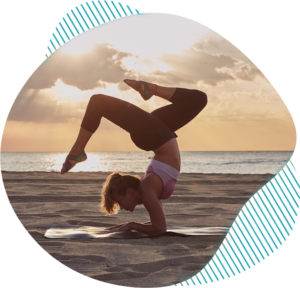 Hot Yoga Ibiza – Many people swear to hot yoga (often called Bikram yoga), because of the detoxification via intense sweat and efficiency of burning lots of calories in class. Make sure you drink a lot of water, and bring water to class to stay hydrated. More information at www.hotyogaibiza.com.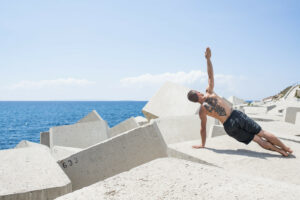 San Antonio
In San Antonio there are not too many yoga studios. However, there are many gyms where they might offer yoga classes, or body balance which is a mix between yoga and pilates. 
Ibiza Bliss Yoga – A yoga retreat centre that offers packages such as sunset yoga & tapas, yoga and meditation and morning yoga and brunch. They offer transport to a secret spot where the yoga will take place, champagne and free photos and videos. Read more here: www.Ibizablissyoga.com.
Masaje Ibiza – Masaje Ibiza is located just outside of San Antonio and is a very flexible studio. They even offer to come to your house or boat and give private classes, massage or any other wellbeing service of your choice. If you want physical exercise, a deep tissue massage or even music therapy – masaje Ibiza has it! Www.masajeibiza.com. 
Santa Eulalia 
Santa Eulalia is filled with yoga, pilates and gyms. This town is the third largest in Ibiza and is more relaxed and family friendly. 
Ashram Ibiza –  The studio is a welcoming, little ashram who offers hatha, vinyasa, yin, alignment and restorative yoga classes. In addition you can do a 30min vipasana or Buddhist meditation to calm the mind. To increase the wellbeing of its clients, the studio offers physiotherapy, osteopathy, lymphatic drainage and massage to mention some. Get more information on their webpage: www.ashramibiza.com.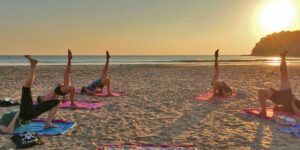 Sunrise fit – This cute little studio likes to take people off the floor with several antigravity classes. Both for grown ups and for kids. You can also train hatha and pilates here. The studio does not have a webpage but their Facebook page is very informative so have a look there.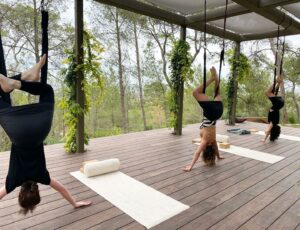 To conclude there is yoga everywhere in Ibiza, and for every liking. Maybe after this pandemic the yogis and yoginis are taking over the "party island", and it will become the wellness hub of Europe? Regardless, the "hippie side" of Ibiza might have gotten a bigger audience the last two years, and it feels like the island can hold space for any activity – day or night.