29 März, 2022
Luxury goes hand in hand if we talk about Ibiza and it is not surprising that there we can find the most exclusive and luxurious brands in Spain that are a must if you visit the island. That is why we want to recommend you some of the most sought after and prestigious stores that you can not miss on your visit to Ibiza, among them, it is worth mentioning the impressive pop up stores, which every year open their doors under the protection of brands of the highest level.
Crossing the port of Ibiza, we reach the other area where these seasonal stores of major international and exclusive brands open, Marina Ibiza, one of the marinas of the city. 
In this area, the French luxury conglomerate Kering, reopens store for two of its brands with which it was already present in Ibiza in the previous season, these stores are characterized by their ephemeral aspect, as they are only open for a few weeks in high season. Brands such as Stella McCartney or Giusseppe Zannotti already have spaces on the most exclusive and luxurious island in the Mediterranean.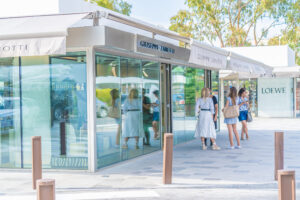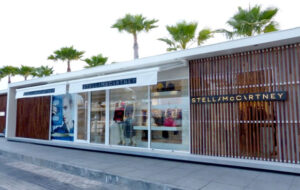 D.Lain is one of the most famous among the inhabitants of the island as it has beachwear fashion predominates. From tunics to dresses created with the best fabrics and many colors.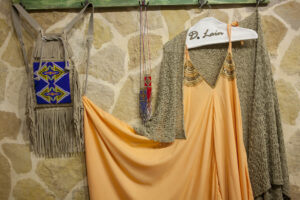 On the other hand we have Ermanno Scervino this brand that specializes in exclusive garments for both sexes, is one of the most famous Italian firms in Ibiza. Elegance is synonymous with this brand which is also one of the most luxurious.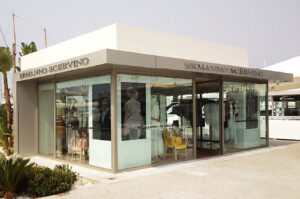 It could not miss a woman designer and in this case Charo Ruiz is undoubtedly the best of the island. This designer, who was a model before, is also the granddaughter of dressmakers. She arrived in Ibiza in the 70's and first tried to set up an organic food place with juices with little success. So far from getting discouraged, she set up a dress market in Es Canar.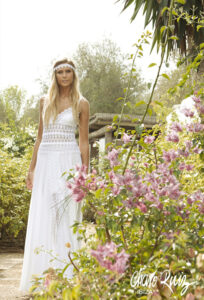 That was her springboard and little by little she was achieving success after success. As she explains her clothes are designed with the best fabrics and gauzes. She has always been passionate about getting a perfect finish to each garment.
One of her latest successes was two years ago when Queen Letizia wore one of her dresses on her visit to the island and in a few hours it was sold out.
Another of the best designers is Vicente Ganesha, who arrived in Ibiza in 1973 and opened this famous store that mixes imported pieces from India with other vintage pieces that he selects himself. His designs of long dresses are among the most admired by the most exclusive public of the island in addition to its fabric is the best you can find today also their dresses have a flight that reflects the soul of Ibiza.  Many fashionistas, international fashion editors, fashion designers like Valentino or Armani, celebrities who land on the island invited by the famous Italian designer Valentino Garavani: Kate Moss, Olivia Palermo, Anne Hathaway, Naomi Campbell… pass through the shop every summer.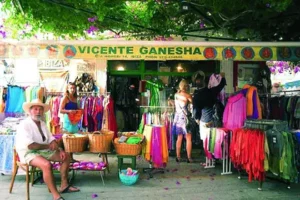 It is the best-selling store because all the most exclusive people who come to the island have an obligatory stop here. So it is not surprising that in social networks every summer is filled with their designs.
Ganesha combines seventies style with religious connotations and that is what makes it have a totally luxurious and exclusive designs.
Loewe has been choosing the Museum of Contemporary Art in Ibiza for two years to set up its store. The Spanish brand that is one of the showcases of luxury and exclusivity will promote their work related to art and craftsmanship.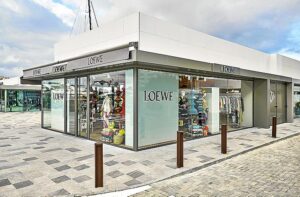 In his store in "Dalt Vila", World Heritage Site, has its usual products and also comes a lot of fashion accessories for the home as well as art and design books and their essentials; bags with a variety of colors to leave no one indifferent and catch you so you can not leave without buying anything. 
We can not forget the big brands that are on the promenade where all the Ibizan luxury is concentrated, brands like Valentino, Gucci, Prada or Moschino or Kenzo take command of the fashion of the island where luxury is a fundamental touch and dress exclusively is what makes you stand out and be different from the rest.
If we focus on Gucci, the Italian house opened a store there a year ago. The luxury brand par excellence wanted to make a grand opening and opted for floral prints by Ken Scott that can also be seen in the Epilogue collection, everything that makes up Gucci Ibiza calls for summer. Its raffia furniture creates a fantasy scene and is the exclusive place to present the collections of its creative director, Alessandro Michele, as his summer proposal Towards Summer or the Resort capsule collection, which is inspired by the vacations of yesteryear and sold exclusively in Ibiza.