3 März, 2022
There are only a few months left for summer and now more than ever we want to help you choose the best possible destination to rest after such an exhausting year, and what better destination could there be than Ibiza? The white island has become the most exclusive island to take a break and disconnect from the world. 
That's why we bring you the most exotic coves to visit in Ibiza and where you can take the best snapshots and live the best moments this summer:
Cala Xarraca: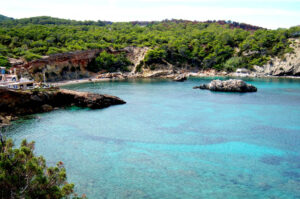 It is one of the most attractive beaches for diving. It has crystal clear waters completely transparent, it also has stunning views. It is located north of the island and is a rocky cove.
Cala Compte: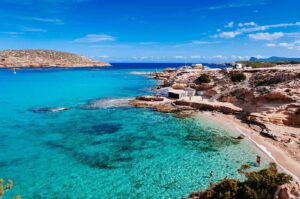 The color of the water is one of the things that characterizes this cove, when you are on the coast you can see other islands. It can be divided into two parts on one side has stones and on the other sand hills. It is the best scenery to see the beautiful sunset of Ibiza and take the best pictures.
Cala Vadella: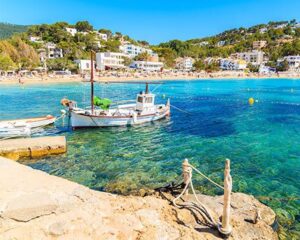 It has one of the most privileged views of the sea and is also surrounded by hills and pine trees. It is perfect for lovers of hiking and for the realization of marine sports, also has a bay for private boats. The cove is famous for its sunset.
Cala de Sa Caleta: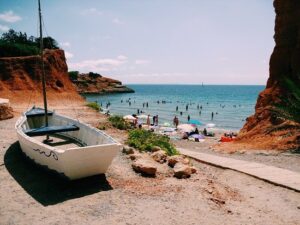 In this corner you can breathe beauty from all sides. It has a horseshoe shape made by large earth cliffs. The waters are crystal clear and the sand is golden. In this cove you can put mud on your skin to exfoliate it. One of the most characteristic things here is that it has a historical find as it has ruins of the Phoenicians.
Benirras Cove: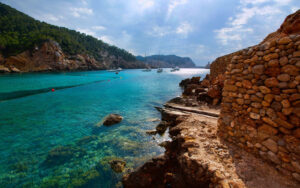 This cove has coarse sand that makes it completely different from the others. Its landscape is one of the most impressive as it is surrounded by hills and valleys. Sometimes there are usually drum shows at sunset making it an authentic spectacle.
Tarida cove:
The color of this cove is impressive, it has an exotic part where the sea is turquoise blue and emerald green. It has a nudist part that is in the north protected by huge stones.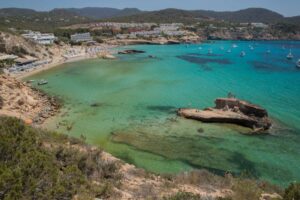 D'Hort Cove: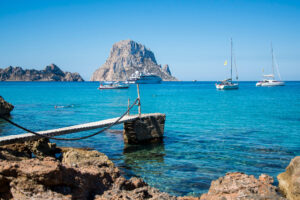 It is located in the town of Sant Josep de Sa Talaia, and is considered a nature reserve that also has other coves such as Vadella or es Carbó.
It is one of the most charming places and has a spectacular sunset as well as spectacular views. Centuries ago this small paradise served as a refuge for pirates.
It is a small beach and its sand is white. It has turquoise water giving the feeling that you are in the Maldives. It is a quiet and ideal place to spend some time disconnecting.
This corner is also ideal to enjoy the best and most famous restaurants located next to the beach, besides being spectacular for its views paella is one of its star dishes.
S'Agrio cove and S'Agracioneta cove:
These two small coves, very close to the town of San Antonio de Portmany, are the typical Ibiza beaches of fine sand and crystal clear waters with pine trees in the background where you will enjoy spending the day and dedicate yourself to find your inner peace. 
Cala Gració is a beach with shallow waters, ideal for older people or families with children. This small corner has turquoise waters and is perfect if you are looking for water sports.
For its part, the neighboring Gracioneta cove is a tiny cove. It is protected by a rocky inlet and a space full of pine trees that makes you recreate an intimate side with which it seems that you have a cave in the middle of the sea just for you.
Ses Figueretes:
It is one of the few coves that we have seen that is in an urban point, is located in Ibiza town and very central. Approximately 10-15 minutes from the center.
The beach of Ses Figueretes is not very big. It measures about 100 meters long and about 50 meters wide. 
In its promenade you have one of the best views and also a great variety of restaurants that will not leave you indifferent. In summer there is one of the most famous markets of the island composed of handicrafts. 
In this cove you have the option to make excursions to nearby places by kayak being a different activity to spend the day and visit different places. Also from here ferries depart to Formentera which is one of the most beautiful islands in the Mediterranean.
Just add that pets are allowed and you have to go early in the morning to get a good place because it is one of the busiest beaches.
Enjoy them!