9 Settembre, 2020
Physical and mental health is a topic that, beyond being something trendy or a hobby of a few who seek to achieve "perfect bodies", is a lifestyle concept that year after year has more value. The term diet has been replaced by healthy eating and the rigorous period of eating few carbohydrates for some weeks until reaching the goal has been changed to a way of eating that is maintained all the year and that allows you to improve your health in the long term, without getting exhausted and even letting you to enjoy some "unhealthy" treats.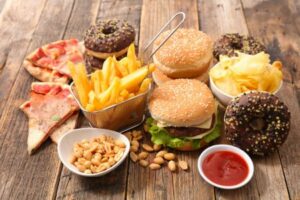 It is then that, those who seek to be part of this healthy lifestyle do not limit themselves to not eating at restaurants or eating a dessert from time to time. On the contrary, more and more stores and supermarkets are adapting to this new scheme and providing food / dishes that not only provide the necessary nutrients that our health demands, but have also reinvented themselves so that these meals are so delicious and attractive like a cheeseburger, a pizza or any other fast food that we like so much.
Of course, at this point Ibiza could not be left behind so you no longer have to postpone your plans to visit this island of supernatural beauty just for fear of losing all that you have achieved with your body. The quality, freshness and exotic flavors of the gastronomy of Ibiza invite you to eat in a healthy and simple way, not only because of the number of restaurants that exist, but also because of the quality of the products that are extracted from an extremely generous land.
Do you want to know more? Here are restaurants that you have to try on your next beach getaway.
It's passion is to see you enjoy .. Come to Passion Cafe and let its flavors delight you.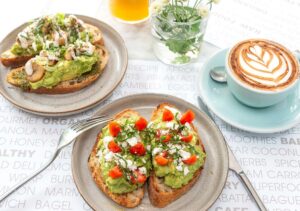 Not for free is one of the most famous restaurants on the island and one of the favorite spots of celebrities. Its creator, Lana Love, opened the first Passion Cafè in 2002 in Playa Den Bossa, focusing on original, imaginative and strictly natural recipes.
In addition to a striking decoration, fun and with a positive vibe that brightens up any monday of intense work, here you can find a very wide menu since it is an ideal restaurant to have a brunch with friends, a lunch after a morning of beach or to enjoy a delicious romantic dinner.
Their dishes are vegetarian, vegan and raw creations but there are also some with fish and chicken. There is definitely something for everyone and additionally, Passion Café has a store and juicery with organic products, take away food, juices, smoothies or coffees.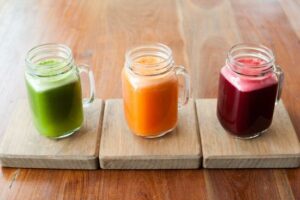 Currently there are three more spots in Sant Josep, Ibiza (La Marina) and Santa Eulària where quality and exquisiteness are kept.
There is not time in Out of Time
Calle Jaume I, 2, is the location that you should save in your GPS, since, in addition to being one of the first vegetarian restaurants in Ibiza, it is a very cozy place, decorated in such a way that makes you forget that you are in the center from the city.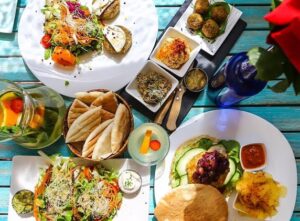 Likewise, and together with their wide variety of healthy teas, delicious juices and smoothies, they are specialized in all kinds of healthy food, including some types of meats, tempura dishes to share, main dishes and even some delicious tacos filled with guacamole, cannelloni and desserts.
Oh! Do not forget that Toni and Silvia (their owners) will attend you with great enthusiasm and will also offer you cooking courses, yoga, astronomy, among others.
Are you super intense and count each macronutrient? The Skinny Kitchen awaits you
If you are a high-performance athlete / sport passionate person or you just like to be stricter with your nutrition, but you don't want to stop enjoying Ibiza for it, The Skinny Kitchen is for you. With its motto "Eat clean, rave dirty" this kitchen focuses on offering custom high protein and carbohydrate dishes fused with delicious flavors.
The best of all is that they have 2 beautiful places in super areas of the island (San Antoni with sea view and another in the center) where you can spend a pleasant time with your family and also enjoy a super complete menu that includes desserts like a bowl of açaí with fruit and granola with coconut, chia, pollen and honey, pancakes, waffles and others.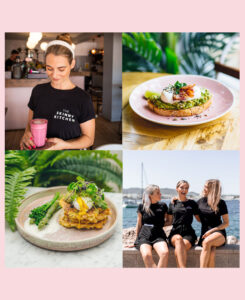 It is then that, you no longer have excuses to think that healthy food is boring or tasteless because you would be far from reality. In these places and in many others such as Happy Carrot, Picadeli, etc. you can find excellent options that will leave you with your mouth open. Check it out for yourself by visiting one of these and you will see that the Mediterranean character of Ibiza marries well with the philosophy of healthy life, starting of course with the food. In short, eating well no longer means eating only vegetables and salads … There is a world of delicious possibilities waiting for you.