17 Settembre, 2020
It is know that it is hardly in autumn when we begin to recover the normal rhythm of life after a vacation where although we enjoy a lot, we also are more flexible with our schedules, diets and routines in general, so sometimes when we go back to work we feel like we need a vacation from vacation. It is then that, in September we must lower the rhythm of our adventures a bit, but we must also continue enjoying our social life, only now in more relaxed settings such as romantic dinners, lunches with friends and even business dinners.
To your surprise, Ibiza is here to be eaten and we are not only talking about enjoying its streets that now don't have way too much people, but this time we are referring to the delicious dishes that you can enjoy in places that are kept open and that continue to work with the raw material of excellent quality and the most exclusive fresh product that we remember from the summer and that coexist in perfect harmony with an environment of greater exclusivity and privacy .. In short, the city never tasted better …
From the openings of new restaurants in beautiful areas of the island that make the gastronomic bubble increase, to restaurants that reactivate their creative skills and renew their menu to offer seasonal dishes in order for them to make their diners excited to continue enjoying pleasant moments in their facilities are some of the scenarios that you will be able to appreciate in this delicious culinary tour that is observed today on the island.
It is then that, you can now pick up your phone and invite your loved ones to share dishes that will go from their mouths to heaven, since, below we will show you some of the restaurants in Ibiza that are in vogue and eager to receive you:
La Veranda, the Atzaró restaurant that came to please you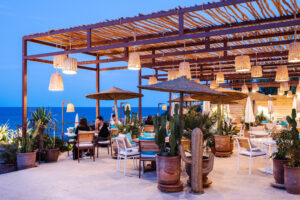 Santa Eulalia is the headquarters of one of the favorites spots in the island: La Veranda. The restaurant that as you will surely know, is located in a beautiful Ibizan countryside and that invites you to enjoy  the agrotourism wonders while you delight yourself in its exquisite flavors.
Although their most famous and requested dish, the macrobiotic salad, is an old acquaintance within their menu, they have also incorporated new creations such as the Atzaró Steack Tartar or the burratina with pesto and tomato from the garden, with which you should know what you will create a strong dependency relationship. Don't say we didn't warn you!
Its 12 Michelin star chef is eager to welcome you .. Come to Etxeco Ibiza By Martín Berasategui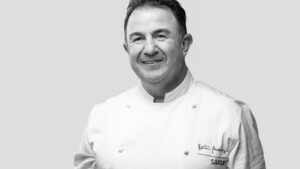 Basque Country + Abundance + Haute cuisine are the three elements that result in this simply exquisite experience. Martín Berasategui arrives with all the distinction and quality that only places like the Bless Hotel in Cala Nova can offer.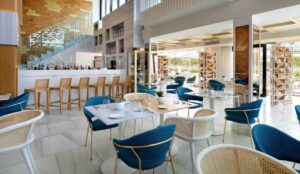 The traditional essence of the Basque country and the touch of attractive modernism are reflected in the works of art that Etxeco Ibiza has to offer you, whether you bet on their red prawns and free-range chicken or you decide to taste the meat and fish that are reference for this incredible chef… Oh, all this surrounded by a Mediterranean decoration and atmosphere that will complement such an idyllic experience.
Hidden among a magical garden you will find the charm of Las Dalias
As mentioned at the beginning, this is the time of gastronomic innovation and Las Dalias is no exception. With its renewed menu that includes fusions of Mediterranean cuisine with influences from India, Morocco and Thailand, this restaurant located on the outskirts of San Carlos is determined to make you fall under its feet … or dishes.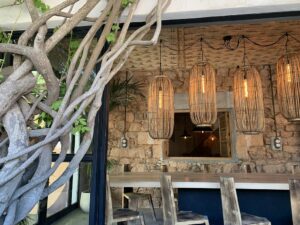 With more than 60 years of experience and thousands of satisfied palates, this restaurant is now a flagship of the island and the perfect space where you feel comfortable with everyone and at all times, since, their doors are open to offer you a huge variety of breakfasts, exquisite lunches that include falafel, burgers and tacos, desserts of extravagant tastes and even a wide portfolio of seasonal wines. Sounds attractive right? Well, all this bohemian experience awaits you 7 days a week.
As a momentary conclusion and always attentive to any gastronomic move, we can tell you that you are in the ideal month to visit all these culinary temples and check that the chefs of Ibiza will never stand still and will continue creating millions of new delicacies even after the "boom " of the summer. So get to work and either with friends, family or even alone pick up the phone and start booking. The offer is wide and you have to be able to taste the best dishes of Ibizan gastronomy, which undoubtedly not only represents flavor, quality and style, but also symbolizes the eternal union of food and the happiness of the heart.