27 August, 2020
For many, summer is synonymous with the beach, sun, party and fun at its best; however, for Ibiza and all those who know what this renowned scenario represents, it means that it is the moment where the most hedonistic island in Europe opens its doors to the new trends in Ad Lib fashion, which is closely related to hippie dresses and bohemian garments adapted to elegant designs that today are appreciated even on the most important fashion shows in the world and on the island, such as Mercedes Benz Fashion Week Ibiza.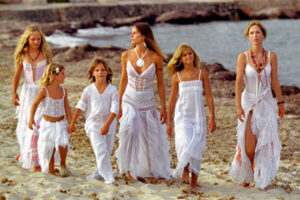 It is then that, when choosing the island as the destination for summer paradisiacal vacations, many girls and boys also begin a journey to decide the looks or outfits to pack in their suitcases to be able to live up to the elegance and style of Ibiza and so that their instagram photos on the beach, romantic dinners or even crazy parties can be as as cool and trendy as possible.
So if this is your case, keep reading reading, since, we will provide you with all the necessary information so that you know how to take advantage of your trip (and your photographs) by choosing clothes that go with the Ibizan style, which in case you didn't know literally means "freely" and it is inspired by the first hippies who came to Ibiza in the 70s. Smilja Mihailovich said: "dress however you want, but with style".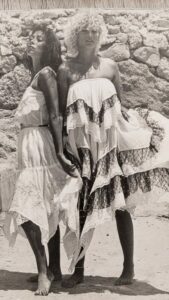 Let's start .. How to look fashionable while enjoying a day at the beach?
The first rule for a fashion beach day is "feel comfortable and enjoy." Use whatever swimsuit you feel more comfortable with and if you want some guide to give it some extra touch, remember that you can lean on guipure or crochet tunics, white flared dresses, mini shorts with long kimono, or one of those tye die prints that are taking all eyes in this 2020. Also, don't forget that a raffia carrycot, a scarf in the hair, string bracelets or hats are elements that will help you to stand out and differentiate your outfit.
On the contrary, if you are a boy, your trouser-style swimsuit with a cut above the knee and with different tropical or pastel prints will be your most important allies and for when you are out of the water, we recommend wearing solid color shirts in case of wearing a swimsuit with a print and. As an accessory a relaxed chain of laces, good glasses and a backpack to carry all your belongings.
Night comes and you want to enjoy dinner in a nice restaurant. What to wear?
Wearing casual clothes with an elegant touch is the best option to go to dinner at a nice restaurant with our boyfriend/ girlfriend, family or friends on a special night on vacation.
It is then that we recommend opting for a cocktail-style dress, long skirts and flowing fabrics, dress pants made of soft fabric and lace blouses with transparencies or the off-shoulder trend that are super ideal for that climate … As you already know, some centimeters of extra height never hurt girls, so complementing your wardrobe with a platform with a high heel or sandals that have height, is always a good idea.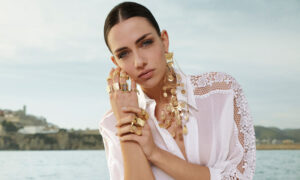 Here again the basic rule of wearing light tones and white will never make you look bad in Ibiza, so for both girls and boys, linen, cotton and all soft, fresh or sheer fabrics are a safe option for a lovely evening.
And what can we say about looking stunning on a crazy night out?
This is exactly the occasion that everyone is looking to bring out the casual and fun style (similar to Coachella) that we see a lot in the photos of parties in Ibiza. That is why if you want to be part of this trend when you attend a night of dancing in a nightclub, do not forget to add details of sequins, glitter and whatever comes to mind: here the rule is to feel free.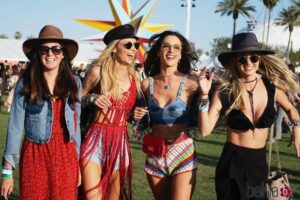 Mini dresses, shorts with shiny details, printed kimonos, cute necklines, heels and nice accessories that allow you to feel comfortable while enjoying long hours on the dance floor, are your best options if you are a girl. In boys, linen shorts or pants, printed shirts, sandals or not very formal shoes and a beach accessory will look good.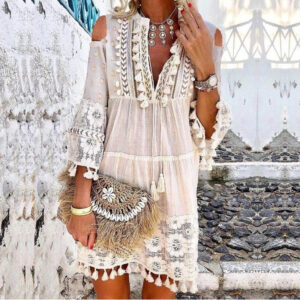 It is then that since you have an idea of ​​what the Ad Lib, Boho Chic and hippie trendy style represent, you can have a general guide of clothes that you can take to the island to be at the forefront.
However, as a conclusion to all this topic that has infinite edges, our most important recommendation when packing your luggage is that you remember that beyond the trends and designs that may be in vogue, you and your personal and unique style will always be the best options, so use whatever you feel more comfortable and happy with, since anything is perfect to enjoy Ibiza and its magic. Of course, there is a garment that you can't miss … your smile!