6 June, 2020
If you love to go to Restaurants, you will find in Ibiza an infinite variety of great cuisines from the typical Ibiza dishes to the most sophisticated culinary art.  Here is a small but nice selection to start with.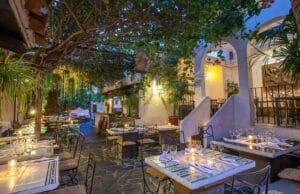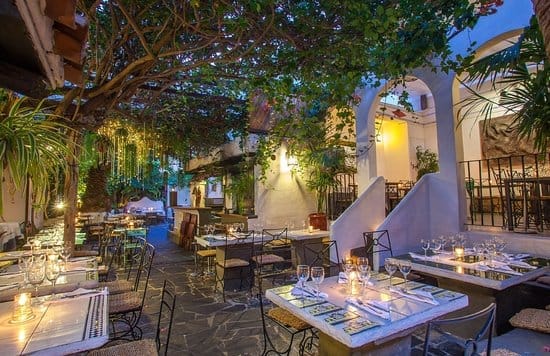 LA BRASA – Now open
http://labrasaibiza.com
+34 971 30 12 02
+34 629 24 42 85
La Brasa is currently one of the most charming restaurants in Ibiza. Its delicious Mediterranean menu offers delicious appetizers, outstanding rice dishes, fish, seafood and grilled meats.
Carmen Turró traveled to Ibiza on vacation with her husband thirty years ago and stayed forever. The couple acquired the old stables of the city and erected, in the shadow of the Renaissance walls, one of the most welcoming gardens of the Ibiza gastronomy.
Every Thursday the restaurant has "All the Sushi you can eat", and you must reserve your table because it is booked up fast.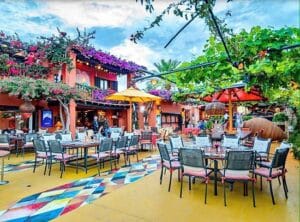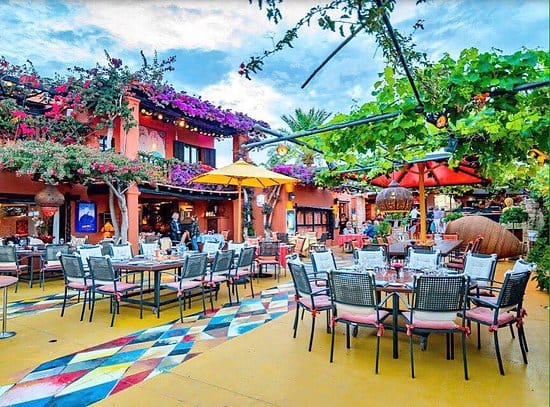 Las Dos Lunas – Open on July 15th
Tel: +34971198102
Since 1981 – An Oasis of delightful rhythm. Surrounded by high protective stone walls is an oasis with a peaceful and delightful rhythm. It is in this magical place where you can experience the hedonistic and amazing essence of the Island.
Many loyal and international customers come here to eat.
Las Dos Lunas offers the irresistible flavors of a traditional cuisine with the finest ingredients and homecooked pastas and deserts.
The restaurant has its own vegetable garden: freshness and quality are delivered directly on your dish. Bread and focaccia are baked daily in a wood fire oven located in a corner of the patio.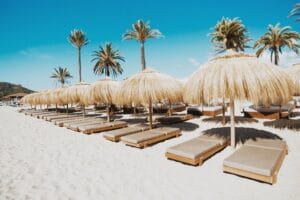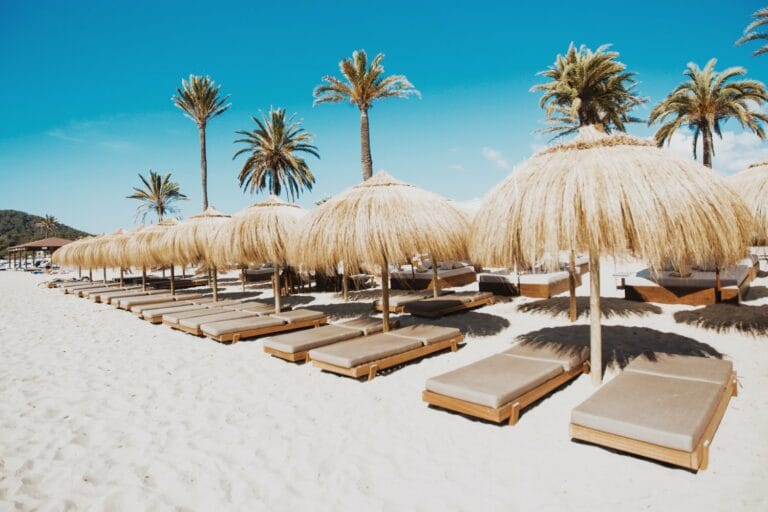 Beachouse Playa d'en Bossa beach – Open on July 20th
https://www.beachouseibiza.com/beachclub
Plata d'en Bossa
+34971396858
Beachouse is located, in the shade of tall palm trees, on a sandy stretch of the dunes of Playa d'en Bossa beach. With its distinctive thatched roof, grass parasols, deluxe hardwood furniture and cool wooden deck, Beachouse Restaurant is paradise.
Head chef Sebastian Nicoletti Altimari has prepared a menu of healthy, hearty breakfasts and lunches, offering the very best fresh fish and seafood dishes from different places in the Mediterranean. They serve generous portions of salads, pastas, risottos and charcoal-grilled fish and meat, all served on rustic sharing platters – the ideal cuisine for a tranquil day by the beach with family and friends.
Parents can relax at this family-friendly section of beach, since kids can run and play whilst always remaining within eyesight. There is also the Little Beachouse craft zone to entertain the young ones.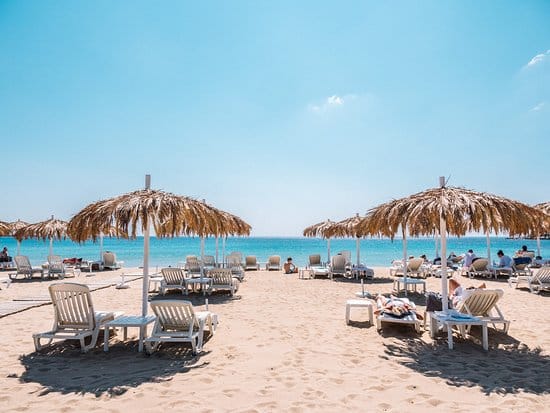 Tropicana Ibiza Beach Club – Now open
http://www.tropicanaibiza.com/
Playa des Jondal. Sant Josep. Ibiza
971 802 640
Located on the stunning beach of Cala Jondal the Tropicana Ibiza Beach club is a sophisticated welcome haven for the 'A list' visitors to Ibiza. Renowned for its quality menu serving delicious Mediterranean cuisine and cocktails – served in the restaurant, on the beach or delivered to your boat – you'll find this venue offers far more than good food and cooling drinks.
Most days chilled Balearic tunes waft over the airwaves, but be sure to check out Tropicana on Sundays, when the beach bar comes alive with Caribbean and Brazilian rhythms so you can samba and salsa your way into la noche.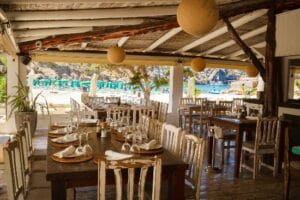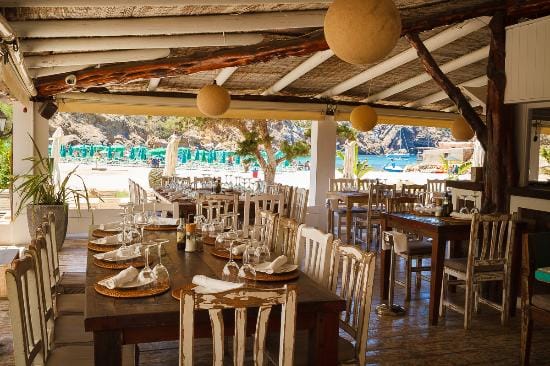 Elements Ibiza – Now open
https://www.elements-ibiza.com
Cala Benirràs
+34 971 33 31 36
Exquisite dining location in the north of the island, right on the sands of Cala Benirrás, famous for its gatherings at sunset.
As natural as the elements – Elements Ibiza exudes that alternative island feeling typified by its setting sun on the hippy chic sands of Benirrás. Open, spacious and sun bleached white, the fusion of super modern and recycled island materials helps to experience a relaxing karma.
A talented trio of chefs concoct an eclectic mix of ideas and flavours from breakfasts, healthy lunches and superb meat and seafood until late at night. A chilled-out lounge bar serves cool cocktails and detoxicating pick me ups are the order of the day in the juice bar.
Elements Ibiza – try it once and you'll be back in a drumbeat.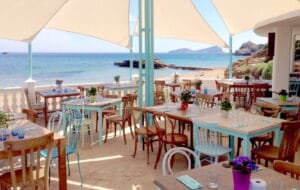 Las Dalias Chiringuito – Not open yet but soon!
https://lasdalias.es/lifeandfood
Playa des Figueral, San Carlos
+34 971 32 69 91,
The famous hippy market Las Dalias' beach restaurant offers laid back, healthy dining while overlooking the picturesque Es Figueral beach.
With a touch of world music and hippy chic to the peaceful, sandy beach of Es Figueral, Chiringuito Las Dalias is a one of the beach bars in the north of the island.
Alongside the cocktails and refreshments you would expect from a beach bar Chiringuito Las Dalias offers diners health-conscious recipes with ingredients from all around the world. Natural, exotic juices, salads, rice and pasta dishes, with some meat and fish specialties make up the contemporary menu.
Parking is usually easy at Es Figueral where you will also find space on the sand for an after lunch nap.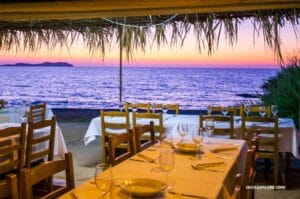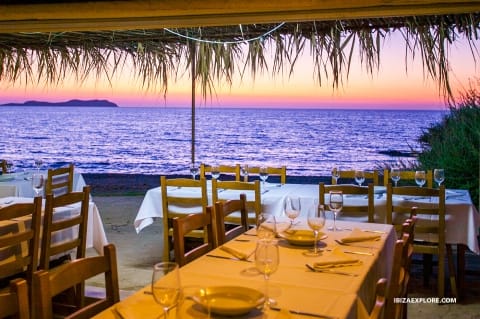 Can Pujol – Now open
San Antonio , Ibiza.
Can Pujol is a traditional seafood restaurant founded in 1980.  You can enjoy beautiful views and sunsets, as well as a friendly service during your meals. Their specialties include the delicious bullit de peix, fresh fish, seafood grills or lobster stews. The fish is always market fresh and never frozen.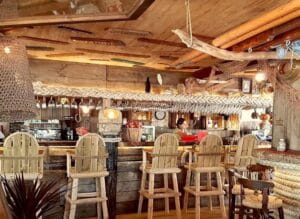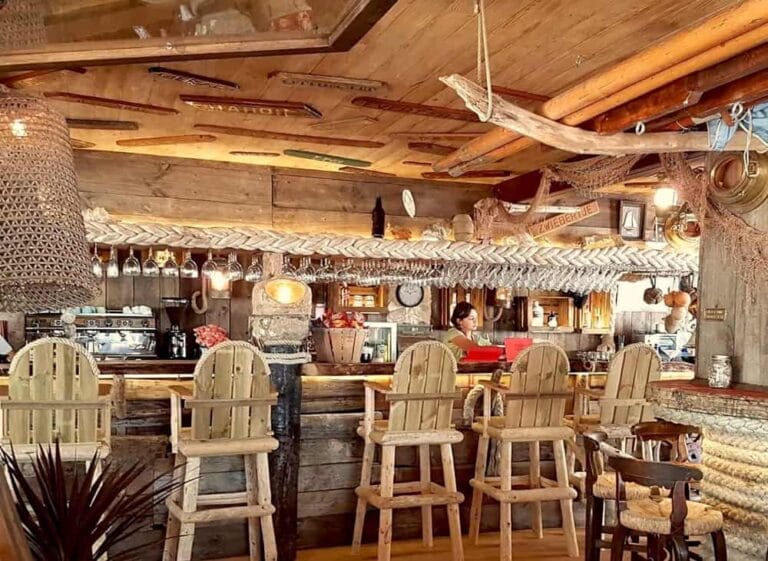 The Boat House – Now open
https://theboathouseibiza.com/
Cala San Vicente
+34971324245
Seeking adventure 40 years ago with only a van and dog, the Dutch Zandwijk family started their own restaurant in Figueretes before moving north in 2005 and opening 'On the Beach' in Cala San Vicente. Four years ago, a new opportunity arose to create the island's most famous family restaurant: The Boat House Ibiza.
Hidden in Cala San Vicente, in the far north of Ibiza, The Boat House Ibiza brings together both locals and tourists throughout the entire year.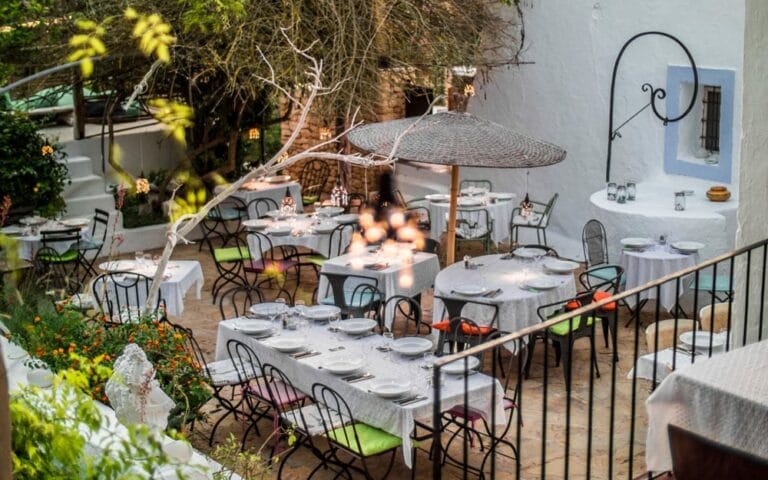 Les Terrasses – Open on June 25th
Tel. (+34) 971 33 26 43
Exclusive and discreet. "Les Terrasses" is actually a very special hotel, frequented basically by a French-speaking public. It is true that it has some exceptional themed nights, such as the couscous on Tuesdays, which is fantastic. The staff is top notch and makes you feel like part of the family, the chef is a young man from Mauritius who defends himself superbly behind the stove… what you do have to do is book early, because it usually gets full.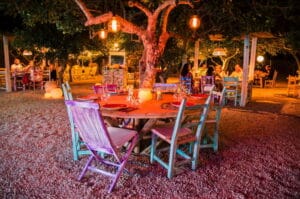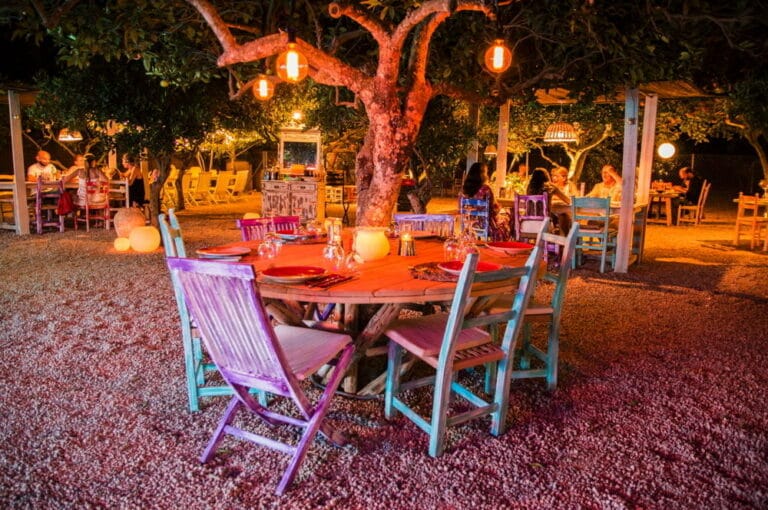 Restaurante Es Caliu – now open
971325075
Es Caliu is the restaurant where the traditional and the avant-garde merge. Why not merge the purest traditional Ibizan cuisine with a touch of style and daring of signature cuisine?
Under the same direction as the Chiringuito de Aguas Blancas, Es Caliu develops its own style and offers much more than a dinner to visitors: we offer experiences. In the close and cozy environment of a country house of more than 200 years, with a rustic and intimate decoration, two dining spaces complement each other: an interior glazed room and a patio of fruit trees.
Here you will rediscover the most traditional Ibizan dishes with the fresh touch of signature cuisine: barbecues and grilled meats, vegetarian grill, rice on request (it is necessary to notify in advance), fresh fish of the day , homemade desserts, etc.
And since dessert is a fundamental part of any menu, all we offer are homemade and made to order.