23 November, 2021
The time of the year where the food is the highlight is approaching. Even how much the thought of your traditional food fills your heart and waters your mouth, do you dare to invite new tastes to this years christmas parties? 
We live on an island with a big international community. Spanish, Germans, Italians, British, Dutch, Argentinians, French and many more calls Ibiza home or second home. How to better know your neighbor than to taste or even learn how to make the foods that hold so many memories, stories, gatherings, laughters and love for this person?  
Here are 15 international dishes that you can try this Christmas Season:
*Disclaimer: some mistakes may occur, but hopefully the respective national will not hold recipe mistakes against the writer. If this does happen, please get in touch and I'm happy to come and learn and taste how the actual recipe should be made. I'll bring a bottle of wine 🙂
Appetizers 
Roasted Parmesan Garlic Shrimps 
Spanish easy and delicious starter or light snack. Once you've peeled the shrimps, lay them one a single layer on a baking sheet and pour over a mix of olive oil, chopped garlic, oregano, basil and grated parmesan cheese. Add some salt and pepper if you'd like, and bake for about 7 minutes at 200 degrees Celsius. When taken out of the oven, squeeze some lemon juice over the shrimps and serve!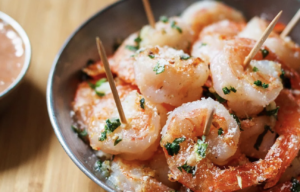 Classic deviled eggs (GER, IT, FR) ga
A classic starter that looks fancy and tastes good. Prepare hard boiled eggs. Once cold, slice the eggs in half lengthwise and take the yolk out in a bowl leaving the whites on a plate. Mix the yolk with mayonnaise, vinegar, salt, pepper and mustard. The way you put it back into the whites is the final touch. You can put it back with a teaspoon, or put the filling in a plastic sandwich bag, cut the corner and pipe the filling in the egg whites elegantly. Top with some paprika spice.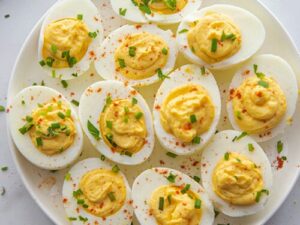 Tapas 
Okay, this one is easy. Classic Spanish tapas is something everyone can like, because you can prepare it however you want. A few examples for a Christmas tapas are; ham & melon, plate of different cheeses, olives, Spanish omelette, fried peppers with garlic and dates wrapped in bacon. Only the imagination can limit your tapas!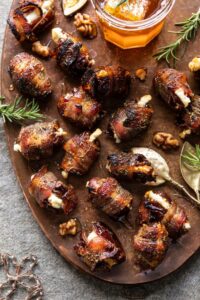 Sides 
Green Bean Casserole Bundles 
Mmmm… This one is really jummy. Start with preheating the oven to 180 degrees Celsius. Mix together one cup of mushroom soup, half a cup of milk, half a table spoon of soy sauce, some freshly ground pepper, half a cup of French´s fried onions. Then you add the beans to the sauce and mix well. Take small bundles of beans and wrap some bacon around it.  Onto a baking paper with the seam side down, and bake in the oven until bacon is fully cooked; about 40 min.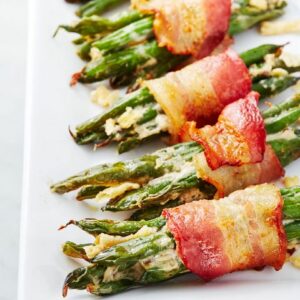 Potato Salad with Sausage
This easy but tasty German dish is kids friendly and is done in a few minutes! In a pot, add a chicken stock cube to water and boil potatoes until tender. Meanwhile, with the sausage of your choice, slice them on a diagonal and fry on medium heat for 5 minutes. Let potatoes and sausages cool down while you make the dressing; 2 tbs of natural yoghurt, 4 tbs mayonnaise, 1 tbs mustard, 2 tbs olive oil and 1 tbs cider vinegar. Mix dressing, potatoes and sausages together and sprinkle with some chopped spring onions for an esthetic finish.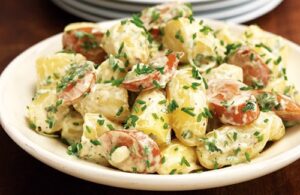 Classic French Spinach Soufflé 
With this dish you choose if you want to make one large dish, or individual ramekins for each person. Preheat the oven to 190 degrees Celsius and start with greasing the casserole with softened butter, then sprinkle the buttered surface with grated Parmesan cheese. Full recipe here:  https://bit.ly/3oTkgoF.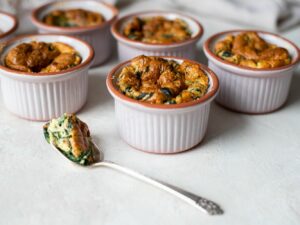 Main course 
Feast of the seven fishes
This grand meal from southern Italy is known as The Vigil and represents the wait of the birth of baby Jesus. The tradition of eating seafood comes from the Roman Catholic times when they did not eat meat or animal fat on a feast day. Typical dishes are Baccalá, Clams Casino, deep fried calamari, deep fried scallops, Linguine with anchovy, Marinated or fried Eel, Shrimp cocktail, stuffed-baked lobsters, whiting and many more. So get cooking, set the table, play some Pavarotti tunes in the background, and you are ready for an Italian evening!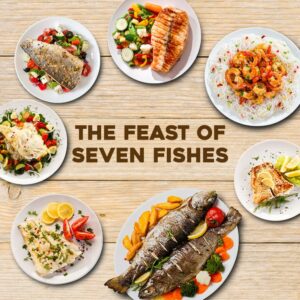 Roasted turkey
Ever since the 16th century, turkey has been the main guest on the christmas table in the UK and later a classic christmas meal in many other countries too. There are countless of ways to prepare the turkey, and it requires quite a preparation, so I recommend to have a scroll online and find the recipe that appeals to you! This meal will definitely be a winner.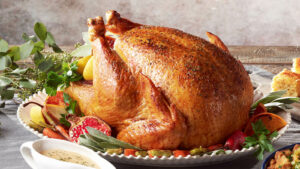 Vegetarian nut roast 
Most friends and families have one or more vegetarian or vegan members joining the food feast. This one is for them! But the probability the carnivores will enjoy it too, is sky high! There are many versions to make it; it can include butternut squash, lentils, nuts, beans, dates, mushrooms, paprika, egg and cheese for vegetarians. Try out this one https://bit.ly/3FAqX5r.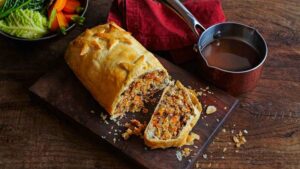 Desserts 
Candied chestnuts
This treat is typical for south France/north Italy. You'll need chestnuts, white sugar, sea salt and water. Start with peeling the chestnuts and boil in lightly salted water for about 20 min, let sit for 5 minutes more in the pot off the heat. Then carefully skin the nuts and transfer them to a pan. In an other pan, mix 2 cups of sugar and 4 cups of water for syrup making; low heat, stir with wooden spoon until you feel a syrupish consistency. Pour the syrup over the chestnuts in pan and simmer in low heat for about 30 min. Let sit for 10 minutes after, serve and enjoy.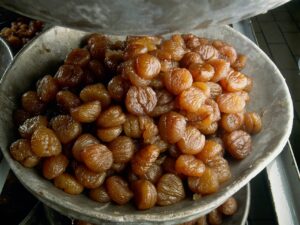 Flaó (Cheesecake) 
If you live on the island and you haven't tried Flaó yet, it's time. This cake has it's origin from the island and has an original cheesecake twist, with mint and goat cheese. Maybe the best way to eat it as a first time, is buying it from the professionals. Sometimes it's better to let other people work their magic, and you can have time for other cooking projects.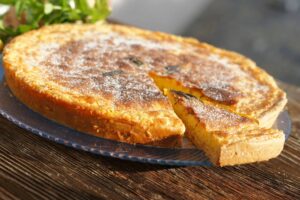 Struffoli 
Italians are good with sweets. Or food in general. Let's just get that straight! These honey balls are a must try this christmas. Get your honey out and get zesting those lemons and oranges:  https://bit.ly/3kXwdIN .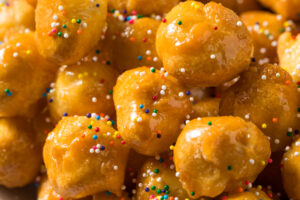 Drinks 
Bloody Mary 
Did you know that this drink might be named after Mary Tudor, or Mary 1 of England, who was also called Bloody Mary? She got this nickname after murdering hundreds of Protestants in the name of Catholicism. So next time you enjoy this drink of vodka, tomato juice, lemon juice, tabasco, black pepper, salt, celery stick, lemon wedge in a glass of ice cubes, you have a sad fun fact to add to it.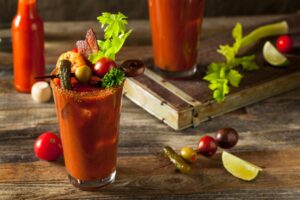 Hot apple cider 
A delicious hot drink for the whole family to enjoy when winter is knocking on the door. Pour apple cider (the non alcoholic one) in a pot and include some cloves, cinnamon, whole black peppers, nutmeg and sliced orange. Heat up almost to boiling point, then turn down the heat and let it simmer for 15 min.  When ready, strain the drink with a sieve into big cups and add some honey if you want it sweeter.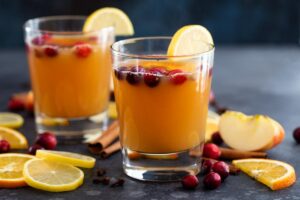 Gluhwein 
Is this hot red wine the savior of the north European population during the darkest, coldest months of the year? They sure all drink it up there, both with and without alcohol. Rule number one if you want the alcoholic version of it, do NOT let boil. Also, any cheap, dry red wine will work fine. Fast version: Add 1 sliced orange, 1 bottle of red wine, 1 cup of white sugar, 5 cloves, 1 cinnamon stick, 2 slices of fresh, peeled ginger in a large pot. Warm and stir on low heat for 15 min, then add some brandy, rum or whichever of your liking to the mix. Served and savored warm.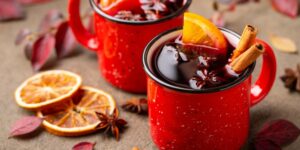 Enjoy!