18 December, 2019
More and more Ibiza is becoming the place for adventurous tourism.
If you are into adventurous tourism in Ibiza then you´ve come to right place. Aside from the water sports and everyday things to do in Ibiza, there are also other activities that you never thought would be available in the island.
Some water activities that you can't miss in the island, at any time of the year:
Windsurf: Even the island is not the most famous place for surfing, beginners can happily get started and enjoy the waves during the summer. Remember you need to be a bit strong and have a good sense of balance. However, the lack of much wind means that advanced surfers and windsurfers will feel limited during the Ibizan summer. Those with more experience of catching some waves should head to Ibiza at the start or end of the summer. The best spots are Playa d'en Bossa, Cala Martina, and Las Playas de Comte.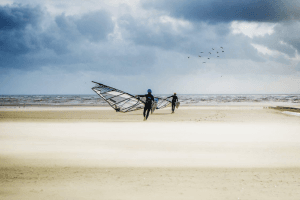 Paddle Surf:Due to the tranquility of the Mediterranean Sea, it is super easy to practice this sport in Ibiza. This sport, an offshoot of surfing that originated in Hawaii, is perfect to exercise and to explore the most beautiful spots of Ibiza's coast at the same time. Paddle surf will get you to caves, hidden calas, natural swimming pools. Just amazing! Now, some variations of the paddle surf include flat water paddling for outdoor recreation, fitness, or sightseeing, paddle board yoga and even fishing. Anything is possible.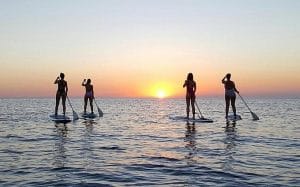 Diving or snorkel: The bravest ones will have a lot of fun diving, and those who rather stay close to the surface will also be able to enjoy the sea floor by practicing snorkel. There are several diving schools in Ibiza and hotels that organize excursions to practice snorkel around the heavenly calas of Ibiza. A great way to sport while discovering nature and unique spots.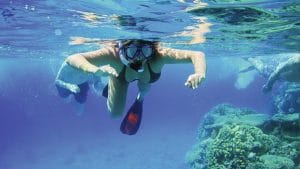 Kayak:if you are a copule, a family a group of friends… go for kayaking for a daycan be the perfect sport for almost anyone who likes to paddle. Caves, calas, unforgettable sunsets… Get on a kayak and discover a different Ibiza.
If you prefer relaxed sports and mind fullness, there are also a lot of activities for you in Ibiza like yoga or Spa Treatments.
Ibiza is a great place to go and relax. Now it is getting very trendy for yoga, pilates, asn spas. Natural life and mind fullness. Ibiza is a place that inspires peace and has a very special vibe to it. Maybe that's the reason why the island has drawn the interest of many yogis from all around the world for a while now.
For real sporty people who wants big challenges, and who really want to get to know the island, here some suggestions for amazing adventures:
Horse riding: exploring Ibiza's coast on a horse's back is definitively one of the most exciting activities you can enjoy in Ibiza. You can ride a horse in es Murta Natural Park located in the northern part of the island where you can go for treks to the hidden and hard to reach places in the island.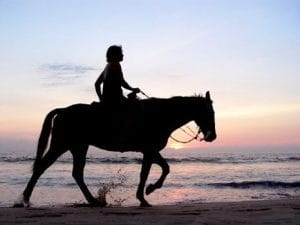 Biking and Cycling Treks: Ibiza can be quite a paradise for cycling lovers, who will be able to choose from different routes for different kinds of skills. The bike routes are adjusted based on the physical capabilities and ability of the participants. There are skills classes, solo riders, guided tours, and even all female groups offered to cater to the needs of the customers.
Rock Climbing:Ibiza Vertical Centre Rock Climbing & Indoor Climbing in San Jose offers rock climbing routes on the island and also an indoor climbing wall. They offer climbing classes, climbing courses, guided rock climbing, and baptisms for all levels. And of course, there are many rocks all around the island where you can practice extra official climing!
Finally, if you have children or are not yet that brave, there is always one of the best activities you can practice in Ibiza: Trekking, Walking and Hiking Tours
Trekking is perfect for spring or autumn, practicing this sport is very popular among tourists. You can choose between routes that cover the coast or the interior of the island, in any case you will be surprised by the amazing views.
Some tour companies in the island offer walking and hiking tours that let you discover nice trails and unknown paths that tourists don't normally go to. Explore the island, its coasts and its mountainous areas on foot with these guided tours. If it´s adventurous tourism you´re looking for…. look no further than Ibiza.

If you are a sporty person or sports is going to be in you new year's resolutions… Ibiza is for you!