20 February, 2020
February…finally! After this long January for everyone, we are getting closer to one of our favorite seasons… Spring!
In Ibiza, spring is fabulous and we can feel it a little bitalready… Almond trees are flowering!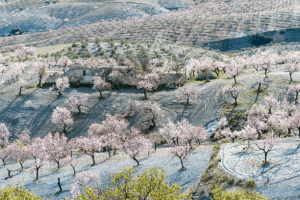 The almond tree is a deciduous tree, growing up to 10 metersand with a trunk of up to 30 cm diameter. Almond is one of the typical trees you can find in Ibiza and Balearic island because theygrowthebest in Mediterranean climates with warm, dry summers and mild, wet winters.The optimal temperature for their growth is between 15 and 30 °C; so the white island is one of the best locationsfor them.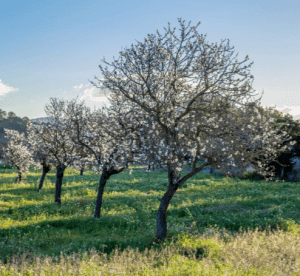 Farmers grow almond trees throughout the year and harvest them between the months of August to October. Dependent on water, it takes almost 1 gallon of water to produce each almond!
From November to February, the buds of the almond tree need to go through the cold weather, but it's a balance since they can be negatively impacted by a heavy frost. In late February and early March, the almond tree begins to produce blossoms that are ready for pollination.This is the most beautiful stage of the treeand you can enjoy them in the island now!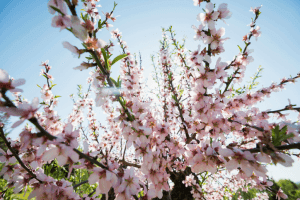 Seeing almond trees bloom in Ibiza is for many people the most magical and special time of the year.It means a signal for the arrival of spring.
Many times almond trees have been in songs or poetry, here a small stract of a song for our nature lovers readers:
Blossom of the almond trees,
April's gift to April's bees,
Birthday ornament of Spring,
Flora's fairest daughterling;
Coming when no flowerets dare
Trust the cruel outer air;
When the royal kingcup bold
Dares not don his coat of gold;
And the sturdy black-thorn spray
Keeps his silver for the May; –
Coming when no flowerets would,
Save thy lowly sisterhood,
Early violets; blue and white,
Dying for their love of light; –
Almond blossom, sent to teach us
That the spring days soon will reach us,
Lest, with longing over-tried,
We die, as the violets died; –
Blossom, clouding all the tree
With thy crimson broidery,
Long before a leaf of green
On the bravest bough is seen; –
Ah! when winter winds are swinging
All thy red bells into ringing,
With a bee in every bell,
Almond bloom, we greet thee well.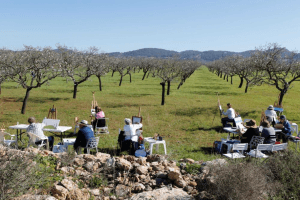 In Ibiza, Almond trees can be seen all over the island. It is a magical time of the year and it Is very typical that the sun is shining, and you can go for long walks and enjoy the nature.
We have selected here a few places you can't miss if you are in the island right now:
Santa Agnès de Coronavalley, which is literally carpeted with white petals. Don't forget to bring your camera and get ready to post it on Instagram!
If you want to do a proper day in this area, you can also visit the small church, the village and enjoy a delicious tortilla de patata, typical Spanish, in 'Las Puertas del Cielo'. This is a peaceful and relaxing spot in Ibiza. We recommend you go here for one of the most amazing sunsets of the island.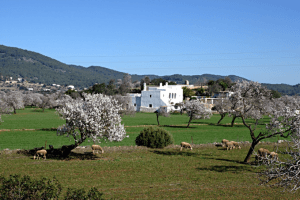 If you prefer to go through the west of the island, then you can take the road of Sant Antoni towards Cala Bassa. During this relaxing drive you will see the green mountains full with white and pink flowers. If, by the other hand, you take the road that connects Sant Josep with Sa Caleta and Es Cubells, the panorama will be amazing as well. Depending on the time at which this route is traveled through the almond trees in the south of Ibiza, you can stop for lunch or coffee at Es Cubells Restaurant, at Sa Caleta Beach Bar or at Yemanjá Beach Club.
 If you are a nuts lover, you must also know some tips that you probably didn't know about almonds. They're a waistline-friendly snack known to boost heart health, and loaded with enough other health benefits to land them a coveted spot on the list of the 50 healthiest foods of all time:
 – Almonds belong to the peach family
– Almonds areamong the lowest-calorienuts
– They are best for youraw or dry roasted
– You canmake your own almondmilk
– Almondspack quite the disease-fightingpunch
Even though Ibiza enjoys a warm and sunny climate, the island remains remarkably green all through the year, and this is mainly thanks to the dense pine-covered hills. Almond trees are one of the most beautiful trees in January and February, and together with the other typologies as pine forests, olive and fig trees, they make Ibiza a very green island and a impressive place to visit if you love nature.