9 October, 2020
This year, as we already know, has been atypical and not at all predictable, so many of us who live in Spain did not hesitate for a second to escape on vacation as soon as we had the opportunity and the regulations allowed it, ceasing to see our friends and family for a while and the reason why we have returned from this break in a hurry to meet again with everyone and catch up on all the new experiences we live in the summer.
We are sure that like us, it was just necessary to set foot at home to start coordinating with your buddies the day, the time and the plan you would make, which in the vast majority of cases, ends up being a coffee talk, a barbecue at home or a relaxed walk together .. Regardless of which you have chosen, a dessert cannot be missing to complete such a sweet moment.
All this because we all enjoy a good dessert, there is no difference if you are still a child, an adult, if you are on a diet or if you are more inclined to salty food… Everybody loves a good dessert from time to time and even more when it comes to your favorite sweet. It is then that, if you are a fan of chocolate, cake, ice cream and really modern and important visual creations, do not miss what comes next because we will update you with the best places in Ibiza to enjoy a sugary moment.
First things first… Let's talk about ice cream and what Gelato Ibiza has for you
Eating ice cream is one of the greatest pleasures in the world. And if not, you will have to fight with its fans. This is because in addition to occupying one of the first places in the most delicious food competition, now we have a better excuse to eat it more often (or at least that is what we like to believe): one of its ingredients is the tryptophan,  a component that has the power to reduce stress, calm the nerves and relieve the melancholy that we may feel. If this is not true, for sure it will give you a moment of happiness.
That is why do not delay it any longer and call your friends to enjoy Gelato Ibiza, a super cool spot that is located in the heart of Vara del Rey and that has products of the highest quality and exquisite flavor.
This professional team offers you different personalized menus that adapt to all tastes and preferences when it comes to snacks, pastries and bakery, thus achieving that their slogan "In passion is the difference" perfectly reflects what they are and what they offer to his clients.
If you think her name is precious, wait to try the desserts: Violet Pastry and Confectionery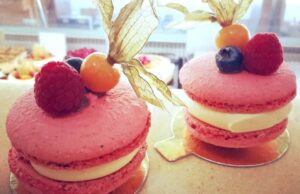 When we visit the family, it is very likely that we will find on the table trays with pastries and chocolates … or some delicious sweet. If your reunion plan with your loved ones is at home, we recommend that a few hours before you stop by Confiteria Violet, which in addition to its ten years of tasty experience, offers homemade raw materials and an infinite range of sweet options. 
If you want your meeting at home to be a success, you can not fail to include in your basket some of their personalized cakes designed for any occasion and also, we would like you to know that if you are a loyal chocolate lover, surely you have tried the fourth chocolate: the ruby. If not, in Violet you can do it. A new recipe made with red chocolate, which gives it a striking pink color and a very peculiar flavor.
Anyway, in this magical place located on Pere Francés street, you can find everything you are looking for any event or meeting you may have, since they also have salty options such as snacks, appetizers, etc. that will surely delight your guests.
La Gourmandise is that beautiful French woman who enchants everyone who sees her or taste her in this case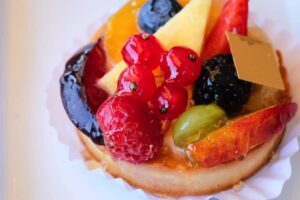 Freshness, delicacy, originality and exquisiteness are some of the many adjectives for which this iconic place in the Can Bellotera area is known, attracting everyone with its smells from beyond that escape from its kitchen and ovens.
So let's go to the point, if you are daring and innovative, you should not hesitate and order a slice of its lemon pie but if you are more conservative and classic, its freshly baked brownie is the ideal one for you. La Gourmandise will become your favorite place to start the day in a good way with products made daily… A temptation to the palate!
In addition, if you are in a hurry, you need something to eat later, or when it is time to eat something not too big, the offer of this curious pastry is expanded. Nutritious salads, crepes, Ibiza bread sandwiches with that refined French touch or croissants with Ibizan products await you.
So now you know, start your return to the new normal with a heart full of joy and sweetness, a combination that is only achieved by being surrounded by those we love and enjoying a pleasant snack… Unique and simply delicious moments!