15 January, 2020
As promised, here a post to talk a Little bit about Formentera: the not that known Paradise, only 20km from Ibiza.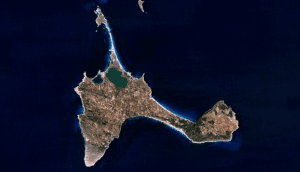 Probably because there is no airport, Formetera is still a very unknown and really exclusive place to go. Formentera is known as the bohemian island, an unspoilt, peaceful paradise with gorgeous beaches, sparkling waters and charming villages.
Formentera covers an area of 83.22 square kilometers and is only 20km fro Ibiza. The only way to get there is by Ferry or boat.
The island's name is usually said to derive from the Latin word frumentarium, meaning "granary". Its major villages are Sant Francesc Xavier, Sant Ferran de ses Roques, El Pilar de la Mola and La Savina.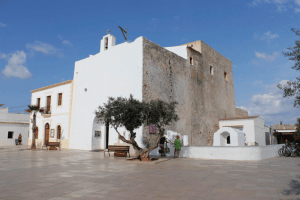 Since the 1960s, Formentera has been a popular destination for hippies. Now some people call them 'pijippies'!, a mix between pijo (posh) and hippy; because even it is a wild island, is now very expensive and exclusive.
Formentera is renowned across Europe for many pristine white beaches and the fact that nude sunbathing is allowed on most of its beaches. The Formentera beaches are with the whitest sand and waters the clearest and most crystalline you could ever hope for have marked out this island as one of the most idyllic destinations in the Balearics. Formentera is a Caribbean island in the Mediterranean sea.
Every day in Sant Francesc is hippy-market day. People in sandals and long cotton skirts pad about the tiny square, smoking roll-up cigarettes.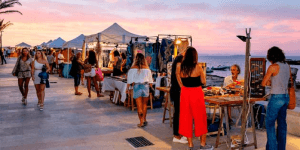 It is easy to get around the island and on arrival at its port, La Savina, you will be met by various car- and scooter-hire places. Eco options are available with electric vehicles and bicycles available for rent too. Cycling is very popular since the island is small and flat with few steep inclines: it's an activity that fits perfectly with the relaxed way of life on Formentera.
 The island's compact size – it is just 22kmlong and, in its thin central section, a couple of kilometres wide– dictates many things about the way it functions. Bicycles and scooters are the ideal mode of transportin a place where no one is ever in a hurry and gradients are modest. As on most small Mediterranean islands, resources are scarce – especially water – and almost everything has to be brought in, making it a relatively expensive place to eat and sleep.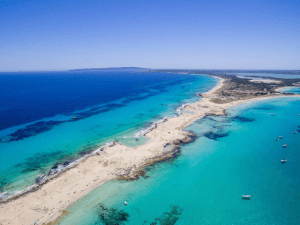 If you go to Formentera, I am sure you are a beach lover. Here some advises:
 One of the best beaches to go in family of with childrenis De Migjorn Beach. What makes this beach special is its length, since it is 3.5 km long and 40 meters wide. It also offers all the services, parking is free, it has access for people with reduced mobility and numerous bars and restaurants, which makes it a more than appropriate place to spend a great day with your family. You will never forget the white and soft sand and the transparent water. Beautiful pictures and very comfortable to go somewhere near for having lunch or bringing your own picninc.
 If you prefer a beach for nudism, then we will recommend you Ses Illetes Beach. It is one of the most famous and visited on the island, and many people say it is the best beach in the world! It belongs to the Ses Salines Natural Park of Ibiza and Formentera and is a nudist beach that runs along a shore of fine white sand. To get there by car you have to travel 4 kilometres from La Savina, but you can also access it by bike or boat. It has paid parking and a bar a few meters away.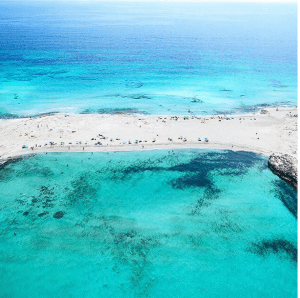 On the other side of the island, you can also find beaches for snorkeling and diving like Cavall d'en Borràs Beach. This beach is notable because you can find areas of Posidonia on the seabed, which makes it spectacular for diving. In addition to this, you can practice nudism. You can also enjoy beautiful views of two islands belonging to Ibiza, Es Vedrá and Es Vedranell. It is located very close to La Savina, between Savina Cove and Platgeta des Carregador. Here you can see how to get there.
 Many people believe that the beaches on Formentera are among the best in the world and when you get there, you will think so too. Off the beaten track and away from the main beaches, you can discover many deserted coves to steal away from any crowds.