18 July, 2020
Renting a boat is an option that you may not have taken into account when thinking about your next visit to Ibiza and its surroundings, since according to what we are used to seeing in movies and magazines, this type of "luxuries" only can be enjoyed by wealthy or famous people, but the truth is that this is not so. Contrary to what is said, exploring Ibiza and its coves by boat is an option that is less expensive than you imagine and it offers you millions of benefits that you will not get in a traditional vacation.
Boats, sailboats or excursion yachts, in addition to being a transport, can serve as your hotel or room during vacations and the recreation activities that you will carry out will take place around the sea trip, so you can reach land each time you want to find a natural coves, small towns or just stock up on food and then go on your way.
Take a dip in the blue sea, jump into the water when you wake up, discover inaccessible coves, sunsets over the sea, that freedom to choose where and when to go without going to crowded places, go from island to island, … There it goes .. I think we have convinced you but as we do not like leaving things half cooked, we will make it even easier and in the list that you will see below you will also find our recommendations of coves that you can visit on your next boat trip in Ibiza.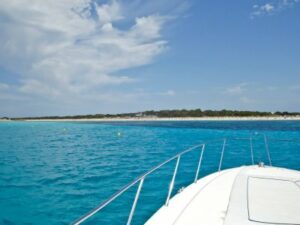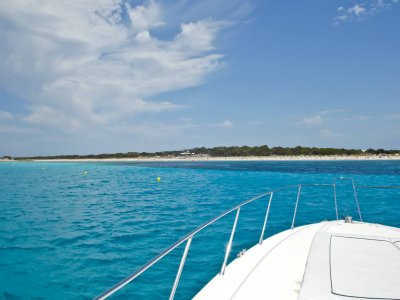 1. Formentera
Let's go! Make up your mind and enjoy the Formentera sea. Here you will have the opportunity to visit some of the best coves and areas of the island and best of all, it will be under a total disconnection environment without motorcycles, cars, or avenues. In this sense, you will connect with all the splendor of this neighboring island of Ibiza through its best route: by boat, from the sea.
During this incredible tour you can make various stops where you will anchor the boat and cool off in the turquoise waters of Formentera. However, if you are more of the terrestrial type, you can stay on the boat and enjoy refreshing drinks and sunbathe.
It is super important that while you are in Formentera, you focus your gaze towards the incredible crystal clear waters of Espalmador, which is a private but accessible island of public enjoyment and that last but not least, has a charming pink-white sand due to particles coral that meet the sand … A natural paradise.
Consequently, we recommend you visit Illetes beach, which in addition to meaning "small island beaches" and being considered one of the best places in the Balearic Islands (and the world), is the perfect place for lovers of windsurfing, kitsurfing, sailing, stand up paddle and snorkel … Do not say that we did not warn you of this unique beauty.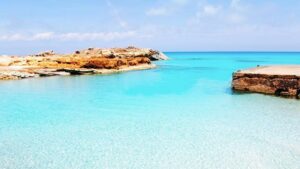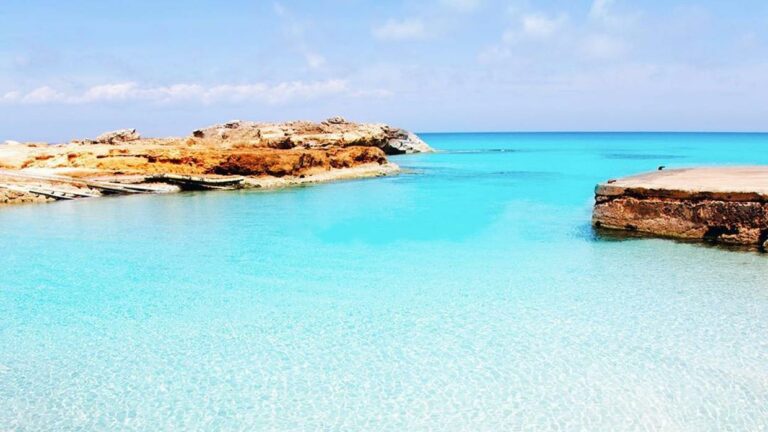 2. Porroig
The Porroig cove is well known to those who like to spend the night on the boat, since, unlike other beaches where the urbanization has wreaked havoc on the beauty of the coast, the fishermen's huts found there do not do more than enhancing the charm of this picturesque cove, in addition to collaborating so that it continues to be a calm place and free of strong tides.
It is then that in Porroig you will find codols of different sizes (rocks and pebbles), which will make this the ideal place to stretch out a towel and sunbathe in a quiet place.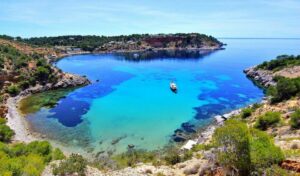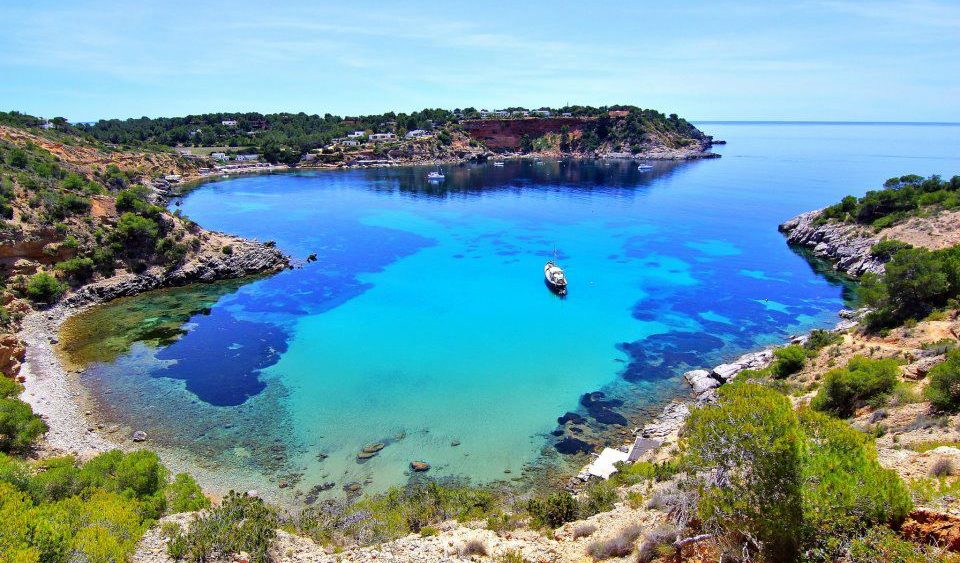 3. Salada and Saladeta Coves
They are two of the most attractive beaches on the island due to their beautiful landscapes, since they are surrounded by hills full of pine forests, white and fine sand and turquoise water with such excellent temperatures. The only problem you will find there is that you are not going to decide when to leave.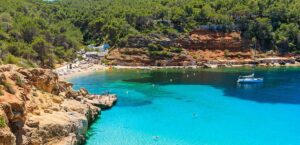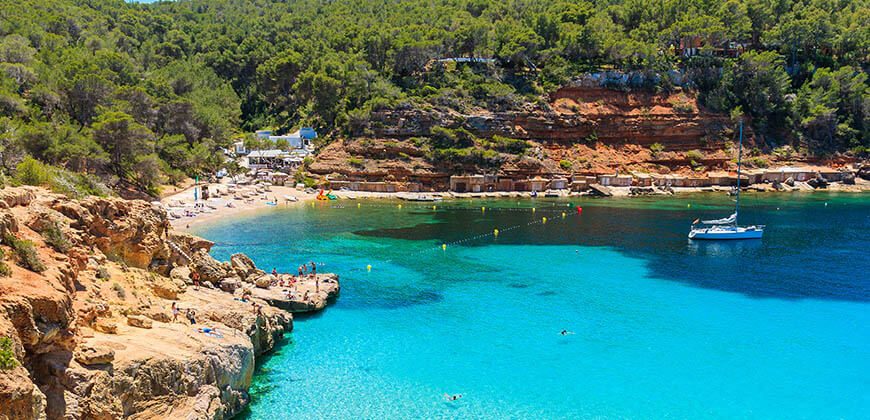 These wonderful landscapes dazzle everyone because despite being in San Antonio, where buildings and shops abound, they manage to preserve their natural and fresh essence, making you have the best of the modern city and peaceful sea.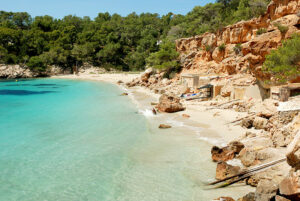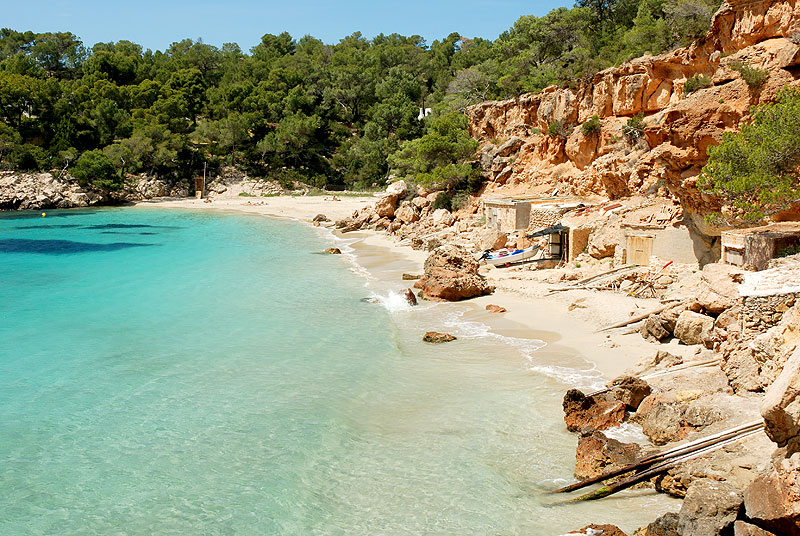 5. Tarida cove
The destination par excellence for families and groups with great courage. Cala Tarida will surprise you as it is the longest and widest beach in the western part of Ibiza and above all, due to its beautiful sand, which seen from afar, can seem authentic snow due to its white color.
This cove is one of the most fashionable places today, since restaurants, shops and grocery stores are just some examples of the many qualities that you can find there. In addition, it is perfect to stock up during your boat trip because there you will find excellent quality beach bars and restaurants that allow you to choose from the simplest appetizer to the most elaborate 3-course meal.
The list does not stop there, there are many more magical places that we recommend you visit by boat such as Cala d'Hort, known to locals as Atlantis, the Port de San Miquel, which is ideal to go down to eat in one of its Ibizan gastronomy restaurants, Ses Margalides and Ses Balandres, Sa Caleta, on whose horizon you can see a singular and impressive rocky landscape of orange color worthy of observation and many other paradises.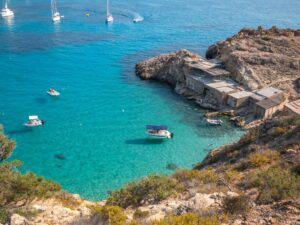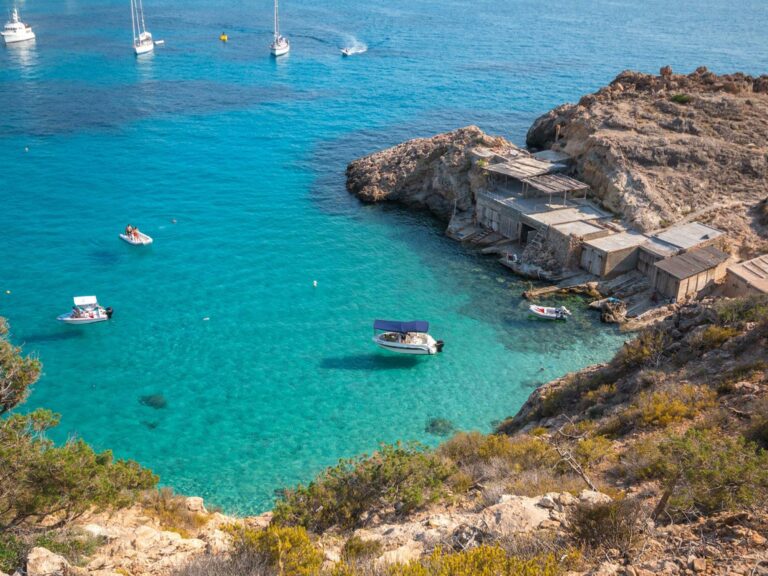 So remember, the boat tour offers you a vision of Ibiza and neighboring islands totally different from what you are used to and these recommendations that we have given you are just an approximation of the coves and bays that are worth visiting on your next vacation. So the only thing left to say is: "When do we sail?"