4 February, 2019
Just a 45 minute trip from Ibiza across the calm Mediterranean waters you'll find the idyllic tropical haven we know as Formentera. This island paradise, the baby of the Balearic Islands, has no airport, is a stunningly spotless national park and you can't help but feel a million miles away from everything while you're here. It's easily accessible from Ibiza and there's plenty of options on how to get there, and what to do when you arrive.
The gorgeous Formentera coastline is a delicate ribbon of sand, and the sea surrounding the island, which takes just 20 minutes to travel from top to bottom, has perfect conditions for the boats and yachts that flock here from Ibiza and other surrounding ports. Formentera does still keep its quaint beautiful charm, with little used roads and picturesque nature both on the land and sea. Car hire, scooters and pedal bikes for the active visitors are all readily available for travelling around, as well as taxis and regular buses that circle around the spotlessly clean beach resorts.
It would be a crime to not dip a toe in the Formentera water, and Es Pujols, on the northern coast, is the perfect place for some stand up paddle boarding. You can glide across the peaceful sea and enjoy the crystal clear view to the horizon with an abundance of water sports available. Sailing, kayaking and snorkeling can be arranged and the conditions are magnificent.
If you really have your sea legs, you can indulge in a real luxury trip. Consider a yacht, sailing boat, catamaran or power boat; try Smart Charter Ibiza  for Formentera boating breaks from Ibiza.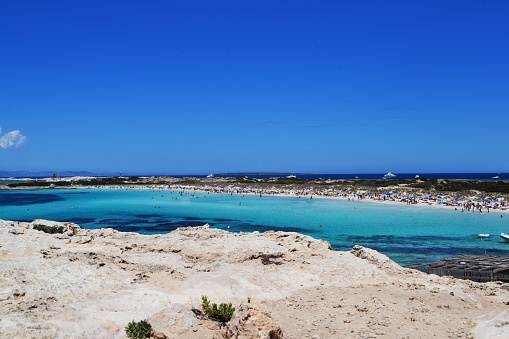 Eating on the Island is a culinary treat, with seafood obviously being the top choice. There are also plenty of Italian restaurants and lots of local cuisine too. Ghezz Gerdi is a great place for a lunchtime feast, with an opulent selection of cocktails or more sensible nonalcoholic natural juices. They use local products where they can and serve up pizza, pasta, fresh salads, sushi, meat and seafood dishes. It's a struggle to choose from so many delicious choices.
Juan y Andrea has been open since the 70's and is a Formentera must see restaurant.  Sit on the picture-perfect beach of Playa Illetes and be served by friendly barefoot waiters while you watch the sun go down, enjoying delicacies such as lobster, mussels, paella and so much more!
If you choose to stay on the island overnight there are some top class hotels, for example The Gecko Hotel and Beach club . The elegant rooms are a dreamy blue to match the surrounding cobalt sea, and the serene rooms walk straight onto the white sands for your own little slice of luxury on a Formentera beach. And while you're there then why not enjoy their additional extras like yoga on the beach or the exclusive wellness centre.  In the quieter times, they also offer yoga retreats and healthy getaways.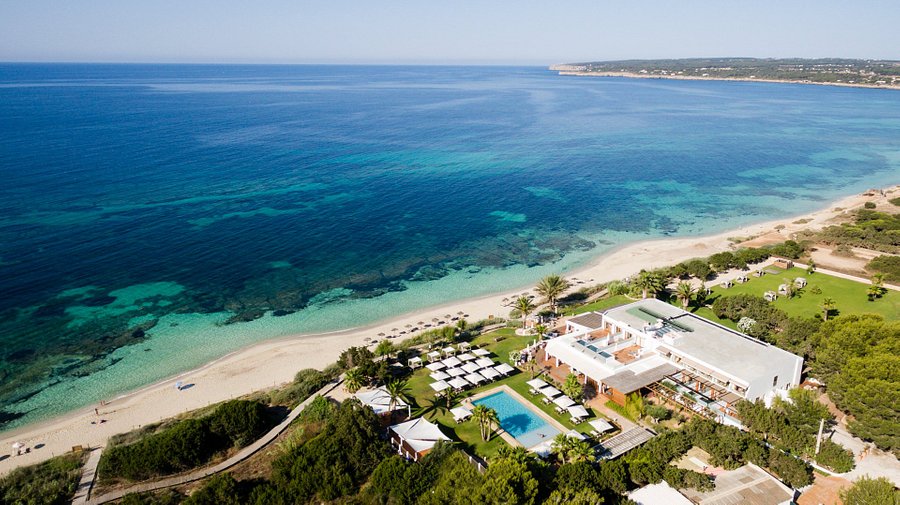 A Formentera holiday really is the perfect break within your Ibiza experience!
Content retrieved from: http://localhost/en/blog-detail/idyllic-formentera.