4 November, 2019
The spectacular marine life of Ibiza will leave you breathless.  We will show you some of the amazing animals you can find in the waters of Ibiza.
There are many reasons to rent a boat for your next holiday in Ibiza. We are aware that you love this island and its nature. That's why we can't let you miss the opportunity to see incredible animals in our waters of the Mediterranean Sea. Like for example:
The Seahorse
Ibiza is a paradise for marine animals. Seahorses are small fish with a very curious and characteristic physiognomy. Its prehensile tail allows it to attach itself to algae and plants, making it very common in the Mediterranean. One of the characteristics that make seahorses unique is that they have their heads at right angles to their bodies, unlike most fish.
He swims very slowly and is a master of camouflage. If you can find one (you may see them moving around with other seahorses near the coast) take the opportunity to take a picture of it.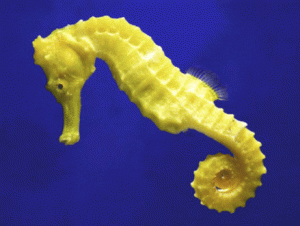 The Loggerhead Turtle
One of the most beautiful marine animals to see when you dive in Ibiza. The species found here is the 'Caretta Caretta', the only one that breeds in the Mediterranean. It has a heart-shaped, brown-coloured shell. These turtles can weigh up to 200 kilos and reach a length of one meter.
Unfortunately, the loggerhead turtle is in danger of disappearing, so we encourage you to respect its habitat and not to disturb it if it is in its breeding season. After all, they are a natural wonder that must be preserved with every effort.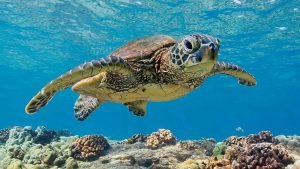 The Dolphin
It is not uncommon to find herds of dolphins accompanying the boats that arrive or depart from the ports of Ibiza. This is a show of enormous beauty that you can't help but look for if you rent a boat in Ibiza. Dolphins are the most intelligent mammals in the animal kingdom and to watch them live is simply amazing.
You have to be very lucky to see dolphins in Ibiza but it may be your lucky day once you are here.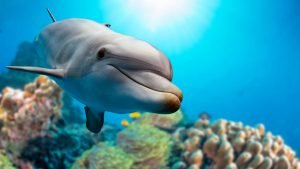 Some marine fauna
The marine fauna in Ibiza is very diverse. Although it has hardly any endemic species, if you dive during your holidays in Ibiza you will be able to see many other types of fish and invertebrates, for example:
Barracudas
Octopus
Breams
Sea bass
Squids
Conger eels
..
What are you waiting for? If you need accommodations for short or long stays or even live permanently on the island, don't hesitate to contact your Estela Exclusive Real Estate agent.