21 January, 2020
We had created this post for every tradition lover! Generally, Spain is a very traditional country with many traditions, folklore and festivities. Typically, these parties are really good fun and you get to know very well the society culture.
Every province, town and hamlet in Ibiza is named for a different saint and boy do the locals know how to honour them! Each and every town will celebrate their Saint's day with a huge feast, celebrating with great food and drink, dancing the traditional ball pagés in authentic costumes and showing off why their town is the best on the island!If you want to see Ibiza's cultural side, you must experience a feast day. It's also the best way to hear some of that traditional  Ibiza music..
Here the most important dates to highlight in your calendar:
January 17: Feasts of San Antonio (San Antón)
January 21: Festivities of Santa Inés
12 February: Festivities of Santa Eulalia
March 19: Feasts of San José
April 2: Feasts of San Francisco (Formentera). Patron feast of San Francesc de S' Estany
April 5: Festivities of San Vicente de la Cala
April 23: Fiestas de San Jorge, festive in the municipality of Sant Jordi.
First Sunday of May: Holidays in Santa Eulalia – Festive in Santa Eulalia.
Third Sunday of May: Feast of Puig d´en Valls.
June 23: The night of San Juan. Party in which bonfires burn and end with fireworks in Eivissa, Sant Josep and Sant Joan.
June 24: Fiestas de San Juan – Festive in Sant Joan.
July 10 – Fiesta de Es Canar, San Cristóbal Day, patron of Es Canar
July 16: Fiesta del Carmen. Patron saint of sailors. It is celebrated in several municipalities. Festivities of Es Cubells.
August 5: Patron saint festivities of the island of Ibiza, Santa María de las Nieves, patron of Eivissa.
August 6 – San Salvador, patron of the Ibicencan navy.
August 8: Fireworks from the Port of Ibiza. Sant Ciriac, patron of the city.
August 10: Feasts of San Lorenzo
August 15: Parties in Cala Llonga. Day of the Assumption of Mary.
August 24: Sant Bartomeu. Fiestas in San Antonio – Festive in Sant Antoni.
August 28: Feast of San Agustín de Es Vedrá, festive in San Agustín.
September 8: Feasts of Jesus
September 21: Feast of San Mateo d´Aubarca. Festive in San Mateo.
September 29: Festivities of San Miguel – Festive in San Miguel
October 5: Fiesta de Es Cubells, Santa Teresa patron of Es Cubells.
October 24: Feasts of San Rafael
November 4: Festivities of San Carlos
November 16: Festivities of Santa Gertrudis – Festive in Santa Gertrudis.
December 8 – Feast of Forada, Buscastell, Immaculate Conception Day, patron saint of Forada.
Music, sports competitions and fireworks are some of the ingredients of Ibiza's traditional Patron Saint's day fiestas. There are activities for people of all ages. These include a tribute to corsairs and seafaring people, along with folk exhibitions. As always, the city's God Medal is awarded on the first day of the celebrations.
One of the most old and popular dances is the the 'ball pagés'The dance goes way back and shows clear signs of old, ancient traditions.
At ball pagés, the man plays a dominant role. He picks a woman to dance by doing a loud clack of his castanets while he is pointing at her.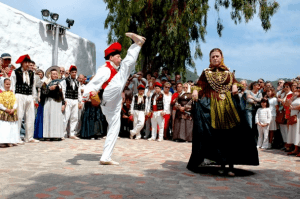 It is worth to highlight the popularity of celebrating the longest day of the year: San Juan!
The holiday season in Ibiza traditionally begins in June with the San Juan Nights. Ibiza is an island located in the Mediterranean Sea that integrates the Autonomous Community of the Balearic Islands, in Spain.
The truth is that on the night of June 23 the fires take center stage in the squares and beach where music and dancing are not lacking. A tradition whose magical time reaches midnight when it is time for the rite of purification through fire.
In this sense, this season is the opportunity to see cheap trips to travel to a town where this event is lived with frenzy, such as the town of San Juan de Labritja, located in the northern part of the island of Ibiza, an area traditionally rural which is the ideal destination for rural tourism in Spain.In this town there is an 18th century church surrounded by a traditional architecture of whitewashed houses built in stone with sloping roofs on the outskirts of the village.
The main street is a joy where the balconies adorned with flowers stand out behind the wrought iron that lead visitors to the cobblestones and stairs. There is not much to do in San Juan, and that is its main attraction.
Another big tradition is Santa Eulària Ethnological Museum. Housed in a perfectly idyllic Ibizan house, you'll find the Santa Eulària Ethnological Museum, a great spot to soak up some traditions and cultural aspects of Ibiza. You might even learn something too!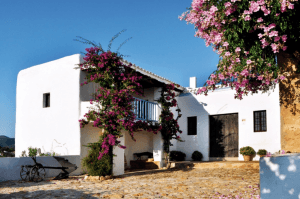 Aside from exploring the beautiful house and its grounds, you and your companions can experience the rich history of Ibiza, its agricultural importance and its cultural artefacts, including a great selection of traditional objects, clothing, jewellery and tools, in addition to beautiful musical instruments, children's toys and furniture Traditions in Ibiza really come to life!
 And of course, Ibiza honors the Virgen del Carmen, Patron of the Seawith seafaring processions in different ports of the island.
In a town surrounded by the sea, the feast of the Virgen del Carmen has a lot of prominence. Also in Es Cubells, this day is celebrated on July 16 as an employer's holiday.
The main activity is concentrated in the Port of Ibiza, processions are also carried out in the Port of Santa Eulalia, San Antoni and Portinatx.