28 November, 2022
Christmas is one of the most popular holidays. For many, it is the most awaited season of the year. The reason that it is a time when families get all together, in a moment of pure joy and sharing. Christmas is one of the most important holidays for Christianism, and it is celebrated each year on December 25th. Some countries start the celebration the day before (December 24th). Another huge holiday celebrated in December is of course New Year's Eve. It is true that each country has its own traditions to celebrate it. In, Spain is one of the most notable countries for its richest Christmas and New Year's Eve celebrations and traditions. Each city has their own way to celebrate New Year and Christmas. Ibiza has interesting traditions, where you will spend these two holidays like nowhere else. 
Ibiza is mostly known for its beautiful beaches and nightclubs. Many visitors do not know that flying to Ibiza in December for the holidays is also a good choice. Since flight tickets are cheaper than in Summer and also there are fewer tourists. These festivities start on the island on December 24th and end on January 6th with the celebration of Epiphany or The Three Wise Men day. The Three Wise Men day, a holiday where the Three Wise Men bring presents for all locals, not only children, but also adults. Families have the tradition to go to the annual cavalcade in Ibiza Town, where the Three Kings give presents and candies to the crowd. 
Thus, is it really worth it celebrating Christmas and New Year's Eve in Ibiza?
Ibiza has a rich tradition when it comes to both of these holidays. By this time of the year, Christmas markets are set up on the island, and it is not just like any other markets. Those in Ibiza have their own style in order to highlight the essence of the island. These markets usually sell Christmas decorations, but also handcrafted gifts and unique Ibizan style souvenirs, which of course you will not find in any other place. One of the most notorious markets is Mercadillo de Navidad de las Dalias which is open from December 14th until January 5th, the market is known for having a hippie theme throughout the year. Another market is Mercadillo de Navidad de Casa Maca, a Christmas spot which is perfect for buying presents, food and traditional wine. Three important elements to feel the Christmas' essence.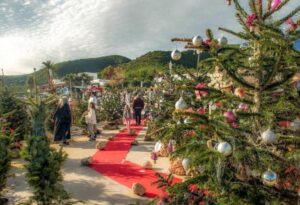 Ibizan gastronomy
Ibiza can offer many options of how to spend Christmas and New Year in the Ibizan way. Going to the beach, eating traditional food, singing Christmas carols and/or going to a nightclub until the sunrise. Normally, Ibizan gastronomy is very diverse, but at Christmas there are different dishes that are very important for the season. Some of these exquisite dishes are Sofrit de pagès which is a popular stew from Ibiza. To finish with a dessert, at Christmas it is common to eat Salsa de Nadal (Nadal Sauce) which is a traditional plate from the island. There is not an exact recipe since each family has their own, which has been passed from generation to generation.
Other popular dishes during Christmas and New Year's Eve are Flaó and Greixonera. Flaó is a dessert based on goat cheese and/or sheep and peppermint, meanwhile, Greixonera is pudding. Needless to say that dinner in Ibiza is also accompanied by traditional Ibizan liquors such as Ibizan herbs and Frígola. 
Apart from its gastronomy, the island has a strong feeling for both Christmas and New Year's Eve. Each small town has their own events, making each town different from the rest. In Ibiza Town, for New Year's Eve, it is very common for locals to go to Pachá. A nightclub known for its massive New Year celebrations, a perfect spot to start the New Year alongside techno music. Also, in the natural oasis located in Atzaró which not only offers a wide variety of Ibizan cuisine, but also an evening soirée with live music, perfect to spend the last hours of the year. 
Many tourists identify Ibiza as a place only for summer. They actually do not know is that spending Christmas in Ibiza can become an unforgettable experience thanks to its culture and traditions. In addition, by that time the City Council usually prepares events such as live music in the streets, Christmas lights and markets on the Paseo de Vara de Rey which is one of the most important spots of Ibiza. These events will make both locals and visitors to feel the atmosphere of the upcoming holidays.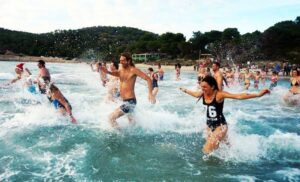 Finally, on the 1st of January, the traditional first swim of the year in Ses Salines. To start the new year, many people meet on the beach of Salinas taking their first bath. People take turns to take a bath at 12, 13 and 14 hours. If you've never been is a highly recommended plan to do so, with friends, family, or even children.