31 August, 2021
Due to the time offs from the quarantines, hotels, restaurants and everything in between have been hard at work looking for ways to renew their leisure offer, making renovations and aligning with the new trends and demands of the "post" Covid world. 
Sometimes, trying to add a new twist to their offer or trying to circumvent the hindering nightlife curfew and reduced capacity measures, while others, making sure the covid measures are not taken lightly for the tranquility of their guests. 
A lot of establishments have had the wit and the time to renovate their facilities and review their whole concept, this has led to a race to incorporate the ultimate and most exclusive features and to become a more complete choice for the incoming waves of tourism expected this summer. 
OKU Hotel: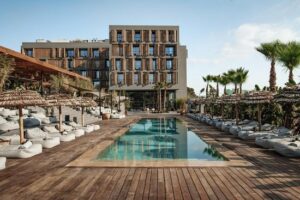 Located in the beautiful Cala Gració nearby San Antonio, this hotel's mantra is the communion of the japanese concept Wabi Sabi (the beauty of imperfection, connection with nature and a non-aggressive principles of urbanism that blend in with nature environments seamlessly) and the more casual and laidback mediterranean culture and lifestyle. 
A boho retreat that is absolutely gorgeous to the slightest detail and guarantees that your stay will not only feed your body (literally and in style) but will enrich your soul too. 
This five star hotel offers yoga and fitness areas with personal trainers, as well as spa, gym and wellness services with NOHrD & Casall equipment. You can have a cup of organic coffee, craft your perfect breakfast bowl or dive into the delicious weekly brunches always peppered by curated DJ sessions. 
Their offer includes beautiful attic suites with stunning views, rooms with private swimming pools and a 4 room exclusive and luxurious villa. The OKU hotel is already famous for having the biggest swimming pool in the island, one of its biggest draws. 
Sublimotion: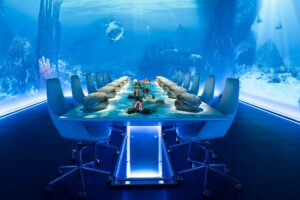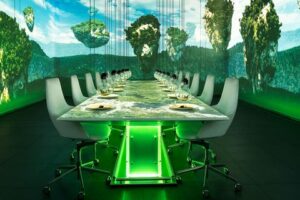 Sublimotion is an ambitious culinary experience, backed by some of the best chefs and artists and masterfully executed as a 360º experience that goes further and beyond a simple dinner. Reopening from July 1st to September 30th and hosted at the Hard Rock Hotel Ibiza, this summer's edition is packed with surprises and top of the industry chefs. 
This year, renowned chef Paco Roncero and Eduardo Gonzales, creative director, have created Sublimotion Limited Edition, designed to pay homage to the 6 year evolution of it's past incarnations. 
Visuals, sound, music, the latest tech, avantgarde cuisine… They all mix beautifully in this operatic ode to high gastronomy and the experience that accompanies it, having great success at creating a unique atmosphere that will surely have you drop your jaw during the dinner. 
To ensure safety and that Covid measures are rigorously followed, this summer they will be working with two groups of 4 or 5 people by night, with a restrictive closed price of 1500 euros per customer. 
Nativo Hotel Ibiza: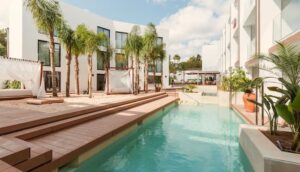 Since May 1st, Nativo Hotel has opened its doors and arms to the public, located in Santa Eulalia del Río, by Siesta, becoming the first barefooted luxury hotel of the island. 
As its name suggests, you can forget about your footwear and just enjoy walking barefoot through their sandy premises, impeccable and ample terraces and lounge areas poolside and exuberant gardens. Nativo Hotel presents a concept of luxury without renouncing to the simple pleasures of life, revolutionizing hospitality and proposing a wild and boheme staging that perfectly merges with the new mediteranean ways and culture. 
The gastronomic bet at Nativo relies on keeping tradition alive, joining the organic local trend opting for healthy and tasteful dishes with the best fresh fish and carefully selected seasonal produce that will make your taste buds go crazy. 
Nativo has two culinary personalities: Wild and Humo. Wild  makes a heavy emphasis in dishes in which the main ingredients thoughtfully shine because of its high quality, freshness and technique. Wild operates at any hour of the day, and you can enjoy their dishes poolside or in the interior salons.
Humo starts functioning in the later hours of the afternoon and is led by peruvian chef Omal Malpartida. Humo takes the rooftop by night to deliver an incredible journey for your palate that will treat you with the best food grilled on embers and other delightful cold dishes.  
It's worth mentioning that Nativo's involvement with conscious tourism and sustainability is no joke or a marketing stunt, they actually have gone out of their way to make the establishment 100% free of plastic use, choosing natural materials and woods in their interior design and doing a great work using natural light as much as possible. 
Six Senses: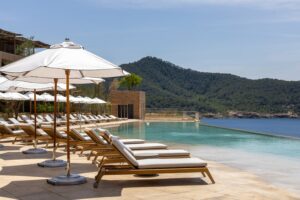 This July, Six Senses lands on Cala Xarraca, located on the north of the island, and is indeed one highly anticipated opening that preaches on "capturing the authentic experience of community, spirituality and the celebration of Ibiza" – as stated by it's architect and conceptualizer Jonathan Leitersdorf.
It's 360º philosophy revolves around comfort and luxury but with a heavy focus on sustainability, wellness and health. Six Senses is the first resort and residential community to bear the BREEAM (Building Research Establishment Environmental Assessment Method) certification in the balearic islands that guarantees environmental responsibility and sustainability of the building and its premises.
As another first, Six Senses is also the first location for the renowned israeli chef Eyal Shani with a culinary proposal that will really get your senses going. The basic principles of his cuisine at Six Senses? Organic ingredients, seasonal products and above all, to ensure the food is delicious. 
The hotel also offers a spiritual center to really allow yourself a peaceful and revelating stay, accompanied by super comprehensive spa facilities and wellness treatment areas for singles or couples. 
We hope that you will enjoy them!